Treasured lakes get some special attention
18 Aug 2015, 9:33 AM
NIWA scientists and Northland Regional Council staff are uncovering more of the mysteries of the North's prized dune lakes using a canoe and some specialist hydro-acoustic surveying equipment.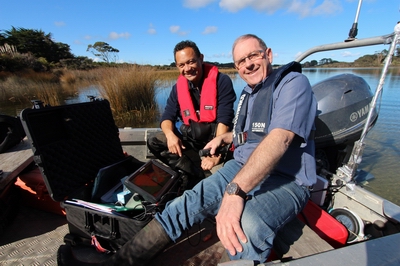 Aleki Taumoepeau (NIWA) and Kaitaia-based regional councillor Monty Knight during recent surveying at Lake Ngatu, one of 25 Northland dune lakes giving up its secrets in a joint NIWA-NRC study.
Lakebed mapping of 25 dune lakes is being undertaken in a joint NIWA/Northland Regional Council project with maps providing bathymetry data as well as information on vegetation and sediment.
Northland Regional Council Te Hiku representative Monty Knight says until now only a limited number of maps have been available, with even the most recent 35 years old.
The Kaitaia-based councillor, who recently visited the Far North's Lake Ngatu as it was being mapped, says some of the lakes now being studied were surveyed as long ago as the 1950s when techniques were not as advanced.
NIWA Freshwater scientist Mary de Winton says after surveying, NIWA is able to produce a map in just a few days by subscribing to a specialist service in the United States which turns hydro-acoustic files into bathymetry maps.
"Because we're not mapping for navigation purposes, these are rapid-fire surveys that get results quickly and are very visual and easy to understand," Ms de Winton says.
NIWA and Northland Regional Council staff expect to have completed all 25 lake surveys shortly.
Councillor Knight says information on the volume, depth and features on the lakebed will contribute to the lakes' management and protection.
He says while a small outboard-powered boat is used for some of the survey work, the lack of easy access points at many lakes mean a canoe is also used.
The canoe is generally used to carry portable sonar unit and carry out the survey work in areas with no access points and is also easier to get across reed beds and fences.
Ms de Winton says there are about 400 dune lakes in Northland, which are most commonly formed by sand blowing across sand dunes and scouring out hollows which fill with fresh water. Over time a huge array of plants and animals become established in the lakes which are generally small, shallow and close to the coast.
Northland is one of the few places in the world where dune lakes are found and is particularly unusual for the number and diversity of the lakes. Many are in pristine condition because they are so isolated and difficult to access.
Most are less than 10m deep and cover less than five hectares, apart from Lake Taharoa which is 37m deep and covers 197ha. Vegetation at this lake has been discovered growing at 24m deep, a North Island lake record.
NIWA has been monitoring the dune lakes annually since 2004. Freshwater scientist Paul Champion says their work has shown the lakes are extremely vulnerable to outside influences and easily degraded. Nutrient enrichment, declining water quality, invasive weeds and pest fish can have a devastating effect on aquatic environments.
"The beauty with the lakes in Northland is that even in the lowland areas, they are generally still in very good condition due to their isolation. However, while the trends are not good and water quality is declining, there are some positives with four lakes showing some improvement recently.
"In some cases all that is needed to improve these lakes is fencing off the margin to allow the regeneration of vegetation, which then acts as a nutrient filter", Mr Champion says.
Information collected from the lakebed mapping will also be used to NIWA for nutrient modelling which will help identify those lakes most vulnerable to land use changes.