Controlled Substance Licence training next month
7 Aug 2015, 11:54 AM
Up to 75 community members and senior secondary students are expected to receive specialist possum poison training early next month as part of Northland's ongoing 'Project Possum'.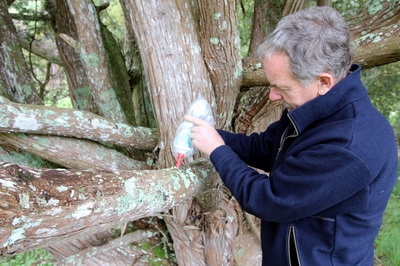 Regional councillor Joe Carr applies pre-feed paste to a tree near Kaikohe during last year's Controlled Substance Licence training.
About 350 mainly young Northlanders have gained hands-on knowledge of possum trapping, fur and pelt recovery over the past five years via Project Possum.
The programme was developed in 2011 and is run locally under the Enviroschools banner, supported by Northland Regional Council biosecurity staff and consultant Geoff Allinson of Can Train NZ.
Three years ago Project Possum was extended to include separate Controlled Substance Licence (CSL) training enabling those who are 17 or older (subject to a police background check) to lay possum-killing toxins like cyanide.
The chairman of the Northland Regional Council's Environmental Management Committee, Joe Carr, says without a CSL qualification, it's illegal to possess, use, store or manufacture the poisons.
Councillor Carr, who represents the council's Hokianga-Kaikohe constituency, says the council is now seeking registrations for one of three day-long CSL courses on offer at Trefoil Park near Kaikohe early next month.
The first course on Tuesday 01 September, is aimed largely at students seeking a CSL for cyanide only, while the second and third courses (on Thursday 03 and Friday 04 September) will be offered to adult community members and encompass training for several toxins.
Councillor Carr, a farmer who has previously trained for his own CSL, says while it can be a relatively difficult qualification to obtain, it's worth the effort and makes it a lot easier to kill pests in large numbers.
"It's also an especially useful qualification for those seeking employment in pest control."
He says the training costs $360 per person and is mainly theoretical, but with an important practical component.
Among the raft of issues covered are signage, notifications (for public, private and government land) and Hazardous Substances and New Organisms Act (HSNO) regulations, health and safety, use, storage and disposal techniques.
Meanwhile, Cr Carr says in a bid to 'close the loop' on possum control methods, this year would also see the programme expanded to offer community members a chance to complete the theoretical component required to obtain a firearms licence.
A separate half-day event, the 'Preparation for firearms licence course' would run alongside the CSL training at Trefoil Park on Wednesday 02 September. The free course is open to people 16 years and over.
Councillor Carr says information about Project Possum and the Enviroschools programme generally is available from the regional council's website via: www.nrc.govt.nz/enviroschools
Those interested in the CSL training should contact the Northland Regional Council on (0800) 002 004.