Westpac Northland Business Excellence Awards
 Northland Regional Council sponsors the Environmental Excellence Award as part of the Westpac Northland Business Excellence Awards.
This award recognises innovative businesses who demonstrate a strong commitment to managing, protecting and enhancing Northland's environment. The region's natural resources sustain our lives.
Businesses need to use these resources appropriately and sustainably and consider water and waste management, smarter transport, environmental enhancements and education and community initiatives.
Congratulations to the 2021 winners!
Extrutec Ltd – winners of the Northland Regional Council Environmental Excellence Award.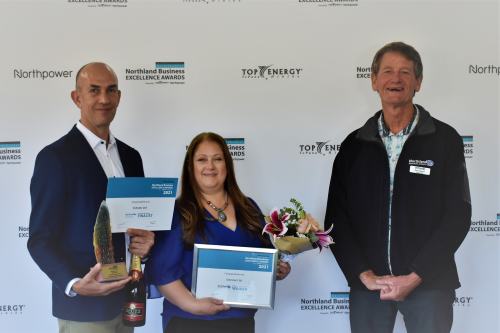 Joe and Theunie Wiid from Extrutec Ltd with NRC Councillor Rick Stolwerk.
Previous winners
2020 : HeadsUp Adventures Ltd (Environmental Business Champion Award)
2019 : HeadsUp Adventures Ltd
2018 : Northern Benchtops Ltd
2017 : Waitangi Treaty Grounds
2016 : Te Hiku Media
2015 : Ohaeawai Community Education Trust
2014 : Grinning Gecko Cheese Company and The Papermill (joint winners)
2013 : Bream Head Conservation Trust
2012 : Kia Tupato
2011 : Explore NZ
2010 : Forest Protection Services
2009 : Dive! Tutukaka
2008 : Mid-North Motor Inn
2007 : Fullers Bay of Islands
2006 : Northpower
2005 : Eagles Nest Retreat
2004 : Waitangi National Trust
Further information
To be eligible for our award, your business must enter the Northland Business Excellence Awards.
Visit the website for further information: www.northlandbusinessawards.co.nz