2020 Award winners
---
Te Tohu Matua Supreme Award
This award was presented for the most outstanding achievement from the eight category winners.
» Patukeha and Ngāti Kuta Hapū
This award recognised the determination and aroha shown by Patukeha and Ngāti Kuta Hapū in their quest to restore the bush and bird life to Rākaumangamanga for future generations of their hapū.
Driven by a deep desire and kinship with their whenua, this groups passionate and dedicated kaitiaki have been working tirelessly to restore and protect the mauri and the wairua of the whenua and moana in the eastern Bay of Islands.
Environmental action in the community
This award recognises individuals or groups who are working collaboratively within their community to protect and improve Northland's environment.
» Friends of Rangikapiti
For an inspirational project bringing communities and cultures together to restore Rangikapiti to its original state.
Environmental action in pest management
This award recognises individuals or groups who are committed to projects and activities that support pest management in Northland.
» Bream Head Conservation Trust
For a visionary approach and community effort to restore the biodiversity values of a headland through sustained and intensive pest control.
Environmental action in education
This award recognises those in the education sector that are driving learning and action to bring about change on environmental issues. The award is specific to schools, kura Māori, early childhood centres or tertiary institutions, and can include the whole school, groups or individuals.
» Portland School - Te Kura o Tikorangi
For a truly inspirational journey that shows what can be achieved when a community comes together with a common and lasting goal.
Highly Commended
Kerikeri Kindergarten Ngahere Programme
For creating an opportunity for children to explore and discover the ngahere where they can play, learn new skills and reconnect with Papatūānuku, their natural environment.
Environmental action in water quality improvement
This award recognises individuals, groups and businesses who are taking action to protect and enhance water quality and biodiversity values within water bodies in Northland.
» Dragonfly Springs Wetland Sanctuary
For determination and vision to transform a junk-filled swamp into a wetland and educational asset.
Highly Commended
Dargaville Intermediate School
For their continued commitment to working collaboratively to improve the water quality of the Kaipara Harbour through growing, supplying and assisting with riparian planting.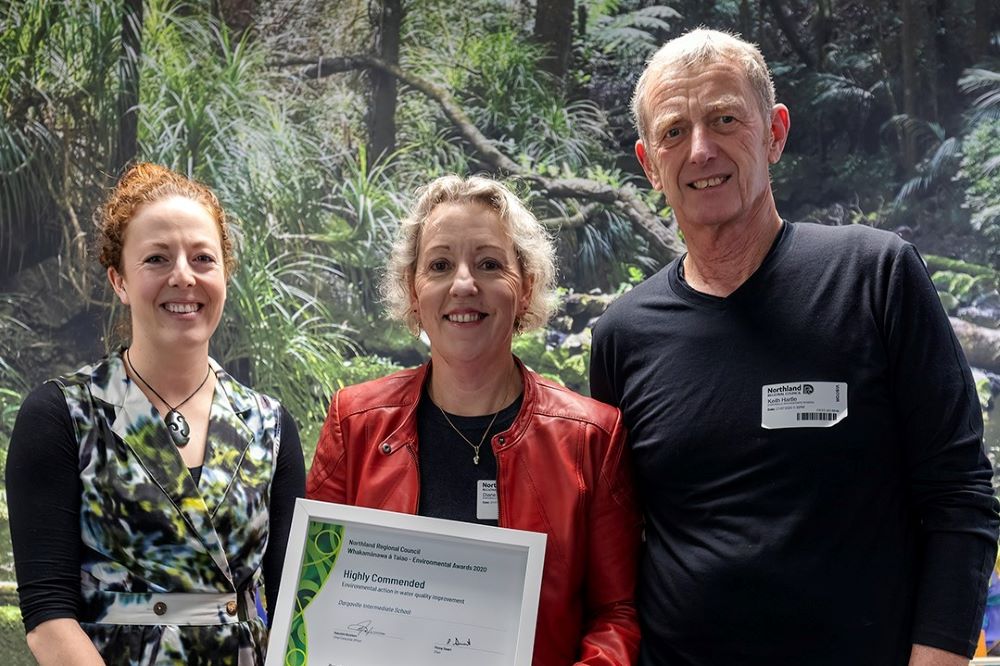 Environmental action in industry
This award recognises businesses that demonstrate sustainable practices which contribute to the sustainable development of natural resources in Northland.
» United Civil Construction
For delivering a major civil works project in an ecologically sensitive environment without adverse environmental effects.
Highly Commended
For thinking outside the box and turning unwanted possum carcasses into pet food, creating a valuable commodity from possum trapping and in turn helping to improve our environment.
Environmental leadership
This award recognises an individual or group whose leadership, support of others and willingness to share ideas and resources is making a significant contribution to Northland's environment.
» Ian Wilson and John Dawn - Puketi Forest
For dedicating time, energy and passion to protect the Puketi Forest and inspire others to join them on their journey.
Kaitiakitanga
This award recognises the unique relationship tangata whenua have with natural and physical resources in accordance with tikanga Māori, and is open to whānau, hapū, iwi and Māori organisations.
» Patukeha and Ngāti Kuta Hapū
For a true community effort and, for many, a labour of love to reduce pests and restore bush and birdlife to Rākaumangamanga.
Highly Commended
For her longstanding dedication to education and developing our future leaders through the use of Mᾱtauranga Mᾱori. Sharing her knowledge and wisdom with whᾱnau, mokopuna and tamariki so they can uphold her vision.