Northland has an abundance of rivers and streams, many of which are relatively short with small catchments. The Wairoa River is Northland's largest river, draining a catchment area of 3650 km2 (29% of Northland's land area). Most of the major rivers in the region flow into enclosed harbours, rather than discharging to the open coast, which has significant implications for coastal water quality.
The Northland Regional Council (NRC) carries out State of the Environment (SOE) monitoring on a number of rivers and streams throughout Northland to measure water quality, identify significant environmental issues and to monitor trends in water quality over time.
The River Water Quality Monitoring Network (RWQMN) involves the monitoring of water quality and macroinvertebrate biota in an increasing number of rivers around Northland. During 2008-09, 35 sites were included in the network, of which four are part of the National River Water Quality Network. Water quality at each site is monitored monthly for a range of parameters and stream macroinvertebrates are surveyed annually. The majority of sites in the network now have sufficient data for long-term trend analysis. The 2008-09 results and long-term trends in water quality are presented in the River Water Quality section below.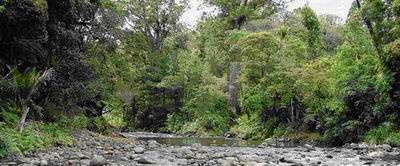 In 2008-09, the network included 35 sites spread across the region. These sites are shown on the map below. Four of these sites are part of the National River Water Quality Network, which is monitored by staff from the National Institute of Water and Atmospheric Research (NIWA) (Waipapa River in Puketi Forest, Waitangi River at Watea, Mangakahia River at Titoki and Wairua River at Purua).
One new site, Hātea River at Mair Park, was added to the network in 2008-09. This site was added to improve coverage over a range of river types, based on geology, source and land cover/catchment type.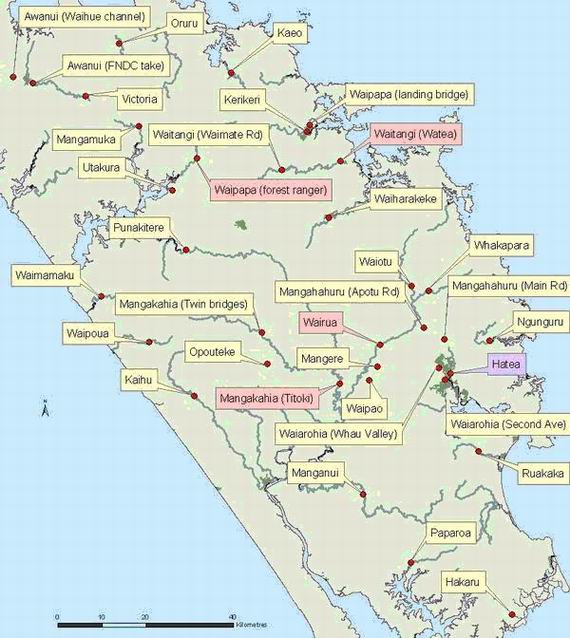 (Pink = sites monitored by NIWA, Purple = site added in 2008-09)