18.2 Tangata Whenua in Northland
The Northland region, otherwise known as Te Tai Tokerau, stretches from the uppermost point of New Zealand, North Cape (Ngati Kuri), south west to Pouto (Ngati Whatua), and eastward to Mangawhai (Ngatiwai and Ngati Whatua).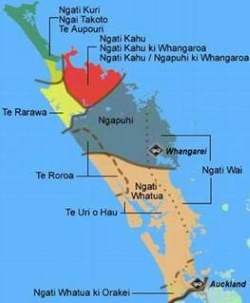 Figure 1: Te Tai Tokerau Iwi map
(Source: Te Puni Kokiri)
In the 2006 census 31.7% of the Northland population (148,000) identified themselves as Maori, compared with 14.6% nationally (Statistics NZ 2006). Half of those that identified themselves as Maori were under 25 years of age. The Far North has the second highest Maori population, for a district, in New Zealand (Statistics NZ 2006).
Within Northland there are nine iwi whose rohe or tribal boundary falls within the region, as shown in figure 1 (right). The rohe of Te Aupouri, Ngati Kuri, Ngati Takoto, Ngati Kahu, Te Rarawa, Whaingaroa and Ngapuhi are located within the boudaries of the region, while Ngatiwai and Ngati Whatua overlap into the Auckland Region.
We have two settlement acts, Te Uri o Hau and Te Roroa both of whom have settled their historic grievances with the Crown through legislation.  The Te Uri o Hau Claims Settlement Act 2002 and the Te Roroa Claims Settlement Act 2008.
Further, there is one Hapu with Treaty Settlement legislation and another Hapu with their Bill before Parliament waiting for it to be passed into legislation. Once this Bill is successful, the two claims will stretch from Pouto in the south to Omapere in the north.
Most of the iwi authorities in Northland have their own informative websites. For more information refer to the links in table 1 (below) or refer to Te Kāhui Māngai: Directory of Iwi and Māori Organisations (a national register maintained by Te Puna Kokiri) at the following link: http://www.tkm.govt.nz/
Iwi policy documents
An iwi management plan is any planning document recognised by an iwi management authority (the authority which represents an iwi and which is recognised by that iwi as having authority to do so) (MFE 2003). Regional councils are required to "take into account any relevant planning document recognised by an iwi authority" under the provisions of sections 61, 66 and 74 of the RMA (MFE 2003).
For more information on iwi policy documents refer to "Whakamau ki Nga Kaupapa – Making the best of iwi management plans under the Resource Management Act 1991" available on the Ministry for the Environment website at the following link:
http://www.mfe.govt.nz/publications/rma/whakamau-ki-nga-kaupapa-jun01/index.html
At June 2008 nine iwi policy documents from various iwi and hapu authorities in Northland have been lodged with the Regional Council, as shown in table 1 (below). For more information on these documents or to obtain a copy please contact the relevant iwi authority. Iwi groups continue to develop and update iwi policy documents.
Table 1: The 12 registered iwi authorities in or partly in Northland region and their relevant iwi policy documents at June 2008
Iwi authority
Website
Iwi policy documents (current at June 2008)
Ngāi Takoto
https://ngaitakotoiwi.co.nz/
 
Ngāpuhi
http://www.ngapuhi.iwi.nz/
Ngati Rehia Environmental Management Plan, 2007.
Ngati Kuta ki Te Rawhiti Hapu Management Plan, second edition.
An introductory perspective to resource management planning, Te Runanga o Ngatihine, 1990.
Kororareka Marae Environemntal Policy Statement.
Draft Ngati Korokoro, Ngati Whaarare me Te Pouka: Hapu Environmental Management Plan, 2006.
Ngāpuhi/Ngāti Kahu ki Whangaroa
http://www.tkm.govt.nz/iwi.aspx?id=6
 
Ngāti Kahu
http://www.ngatikahu.iwi.nz/
 
Ngāti Kahu ki Whangaroa
http://www.tkm.govt.nz/iwi.aspx?id=7
 
Ngāti Kurī
http://www.tkm.govt.nz/iwi.aspx?id=2
 
Ngāti Wai
http://www.ngatiwai.iwi.nz/
Te Iwi o Ngatiwai Iwi Environmental Policy Document, Ngatiwai Trust Board, 2007.
Ngatiwai Aquaculture Plan, June 2005.
Draft Te Whanau o Rangiwhakahu Iwi Management Plan (currently being updated).
Ngāti Whātua
https://ngatiwhatua.iwi.nz/
 
Te Aupōuri
http://www.teaupouri.iwi.nz/
 
Te Rarawa
http://www.terarawa.co.nz/
 
Te Roroa
http://www.tkm.govt.nz/iwi.aspx?id=12
Draft Nga Ture mo Te Taiao o Te Roroa: Te Roroa Iwi Environmental Policy Document 2008.
Te Uri o Hau
http://www.uriohau.com/