12.7 Case study 1 – Stormwater monitoring
Northland Regional Council monitors a variety of stormwater discharges in the region. We mainly monitor stormwater runoff from industrial businesses, earthworks and construction sites, urban and rural catchment areas and quarries. In certain, circumstances the RWSP requires that resource consent is needed to discharge stormwater from a site, area or activity.
Whangarei urban catchment
The Whangarei urban catchment is divided up into 10 different catchment areas with all apart from one ending up in the Whangarei Harbour. Whangarei District Council holds consents for approximately half of these systems, which have individual management plans. The Northland Regional Council and Whangarei District Council monitor and take samples of stormwater being discharged from these.
In catchment stormwater monitoring, samples need to be collected in a first-flush event. This is ideally in the first hour of significant rainfall after at least a week of no rainfall. This gives results that are for the worst-case scenario. However, first flush is not needed for sediment sampling, which is carried out as well as the water sampling.
Sampling sites include an upstream location not influenced by stormwater discharges from the Whangarei urban area which is the background site, and a downstream location, which is the compliance site. Stormwater from these sites are mainly tested for metals such as zinc, lead and copper. The results from the downstream (compliance) site are compared to the results from the upstream (background) site to determine whether there are any environmental impacts resulting from the Whangarei urban stormwater.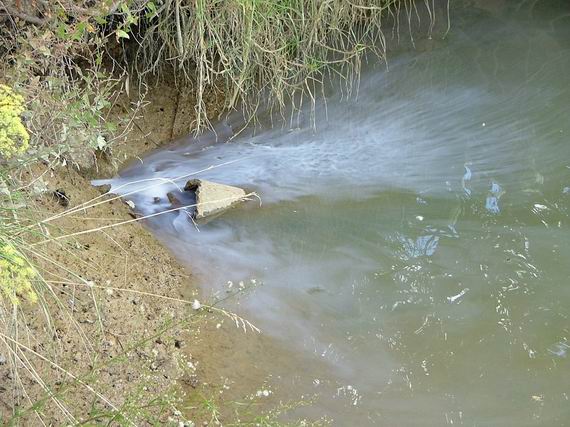 Samples taken from urban catchment monitoring have shown results that are consistently exceeding guidelines or resource consent conditions. Copper, lead and zinc are the most common metals found to exceed guidelines and consent conditions.
Earthworks/construction sites and industrial businesses
Most earthworks and construction sites and quarries, do not need to be sampled or inspected during first-flush conditions but significant rainfall is necessary for testing. These sites are usually sampled or inspected for sediment discharges and most should have some kind of adequate sediment and erosion control measures in place during rainfall.
Industrial businesses are usually monitored in first-flush conditions and sampled for products and chemicals, which are stored or located on site. For example, fertiliser plants get monitored for nutrients such as ammonia, nitrates and phosphorus, while asphalt plants are sampled for petroleum products.
Occasionally industrial businesses or earthworks sites are also found to exceed consent conditions or breach a rule in the RWSP for Northland, for samples taken from their stormwater runoffs or stormwater pond discharges. These issues can usually be resolved by means of correspondence with the consent holder or business/earthworks site manager. Failure to resolve the issue in this way then usually results in formal warnings and, if necessary, formal enforcement.
Overview
Some of the larger issues the Regional Council is currently facing with stormwater discharges in Northland include sediment runoff from inadequate controls on earthworks sites, high results for some metals from urban catchment sampling and contaminant runoff from industrial businesses.
As it can be very expensive, time consuming and difficult to locate the exact source and areas causing contamination, it is important that the public and businesses are aware that typically stormwater is not treated before it discharges into our rivers, lakes and harbours, meaning it can have a detrimental effect of aquatic life and water quality.
Northland Regional Council now includes the TP10 stormwater design guidelines (ARC 2003) and low impact design into resource consents for subdivisions. The Regional Council and District Councils will continue to work together to improve stormwater management and awareness in Northland.