12.4 What is being done?
Policy documents
The Northland Regional Council has produced two policy documents for the management of Northland's freshwater resources. The Regional Policy Statement (RPS) provides an overview of resource management issues in Northland, including those with regard to surface water quality. It contains objectives, policies and methods to achieve the integrated management of Northland's environment.
The RPS for Northland is available on the Regional Council website at the following link:
http://www.nrc.govt.nz/Resource-Library-Summary/Plans-and-Policies/Regional-Policy-Statement/Regional-Policy-Statement/
The Regional Water and Soil Plan (RWSP) for Northland has specific water quality guidelines for different purposes, including aquatic ecosystems, contact recreation, fisheries, water supply, stock water and irrigation.
The Plan also includes rules that control the extent and type of discharges to freshwater and land, rules pertaining to land disturbance activities and streamside management areas. Plan change 1 to the RWSP was made operative on 30 August 2007 and included changes to the rules for water takes, damming and diversions.
The RWSP for Northland is available on the Regional Council website at the following link:
http://www.nrc.govt.nz/Resource-Library-Summary/Plans-and-Policies/Regional-plans/Regional-Water-and-Soil-Plan/
Dairying and Clean Streams Accord
The Accord aims to promote sustainable dairy farming in New Zealand. It focuses on reducing the impacts of dairying on the quality of New Zealand streams, rivers, lakes, groundwater and wetlands.

The six priorities for actions and national targets outlined in the Accord are:
· Fonterra and Regional Councils to develop Regional Action Plans for the main dairying regions to implement this Accord by June 2004.
· Dairy cattle excluded from 50% of streams, rivers and lakes by 2007, 90% by 2012.
· 50% of regular crossing points to have bridges or culverts by 2007, 90% by 2012.
· 100% of farm dairy effluent discharges to comply with resource consents and Regional Plans immediately.
· 50% of regionally significant wetlands to be fenced by 2005, 90% by 2007.
· 100% of dairy farms to have in place systems to manage nutrient inputs and outputs by 2007.
The Regional Council and Fonterra co-signed the Dairying and Clean Streams Accord regional action plan for Northland in May 2004. The purpose of the regional action plan is to identify local commitments and to support the national Accord principles of developing actions that are adapted for local conditions, practical, cost effective (whilst recognising the practical and financial constraints of implementing timeframes) and that will make a real difference.
For more information on progress towards meeting the targets in the Regional action plan refer to the land and soils chapter of this SOE report.
National direction
The Sustainable Water Programme of Action was launched by the Ministry for the Environment and the Ministry of Agriculture and Forestry in 2006. The purpose of the Programme is to achieve the following six broad goals:
· Achieve greater strategic planning for water at national and regional levels;
· Provide clearer direction and guidance from central government;
· Ensure greater consistency in the way increasing demands on water resources are managed across the country;
· Develop a better framework for deciding between conflicting demands for water;
· Enable increased effectiveness of Maori participation in water management;
· Provide for more effective management of the impacts of diffuse or unintended discharges on water quality.
Proposed initiatives from central government include:
· National Environmental Standards for drinking water sources.
· National Environmental Strategy for water measuring devices.
· National Environmental Strategy for environmental flows.
· National Policy Statement for managing freshwater.
Resource consent monitoring
Major point source discharges to water and land require resource consent from the Northland Regional Council. Included in the resource consent are conditions. These conditions may include provisions for effective waste treatment systems, management plans for the use of treatment systems, limits for the concentration of contaminants that are allowed to be discharged and/or effects on the receiving environment and monitoring programmes that assess the effect of the discharges on the environment.
Sewage waste discharges
Central Government, under the Sanitary Works Subsidy Scheme, has been able to provide a proportion of the capital funding for sewerage services in a number of Northland communities, including Ngunguru, Kawakawa, and Russell. This along with the significant amount spent by District Councils has led to upgrades of sewerage systems in several communities.
More than 20 other communities are also working towards using this funding under the Sanitary Works Subsidy Scheme, particularly in the Far North. Future construction under this programme would increase the number of communities with sewerage systems in Northland. However ongoing funding under the Subsidy scheme is uncertain, as its continuation is currently under review by Central Government.
Other major medium future developments are likely to include sewerage schemes in Mangawhai, expansion of the Ruakaka and Bay of Islands sewerage schemes and upgrade of the Maungaturoto sewerage system. The planned wastewater infrastructure budget for this year is several million dollars for the region, which is identified in each of the three District Councils' 2007/2008 Annual Plan.
The Council has been part of a number of initiatives to improve wastewater services in Northland. This has included the development of a sewage accord which sets goals for the regional and district councils to meet in relation to improving wastewater management. This is yet to be finalised between the parties. The Council is also in the process of developing a GIS based risk model to determine which sites in Northland may be more at risk from failure of onsite wastewater treatment systems.
State of the Environment monitoring
It is also recognised that some activities are permitted (no consent required), provided the effects do not compromise the objectives of the Regional Policy Statement and Water and Soil Plan or cause any significant adverse effects.
State of the Environment monitoring programmes have been implemented to assess the state of river water quality and ecology and how that changes with time.
Northland Regional Council has the following ongoing surface water monitoring projects:
Regional Water Quality Monitoring Network (RWQMN)
The RWQMN was established in 1996 to provide information on river water quality in the Northland Region, so that baseline levels and water quality trends can be assessed. The RWQMN now includes 34 sites sampled on a monthly basis for physico-chemical parameters (four of these 34 sites are part of the National River Water Quality Network and are sampled by NIWA).
In addition, all sites are monitored annually for macroinvertebrates and assessed for habitat quality and quantity (ecosystem health) every second year.
In 2007 investigative sampling at RWQMN sites with ongoing water quality problems was started. This involves more detailed sampling within the catchment to try to identify the potential sources of contamination. Initially fortnightly sampling has been carried out at six sites in the Mangere catchment, which has helped to identify problem areas. The findings from this sampling will be used by Regional Council land management officers to promote sustainable land management practices in the problem areas of the catchment, with the overall aim of improving water quality. Other RWQMN sites to be investigated in the future will be Punakitere, Waiotu and Opouteke Rivers, Waiarohia Stream and Mangahahuru Stream at Apotu Rd.
Freshwater recreational bathing programme
During the summer of 1999/2000 the Council initiated a survey to assess the baseline water quality at several of Northland's popular freshwater swimming sites. Sampling has continued every summer between November and February. The sites are reviewed every year and changed as required.
In the 2006-2007 summer 25 freshwater sites throughout Northland were sampled weekly for E. coli to check whether the microbiological water quality was safe for recreational use. Elevated results are passed on to the district councils and Northland Health to be followed up. For more information refer to the following link on the Regional Council website:
http://www.nrc.govt.nz/Living-in-Northland/At-the-beach/Swimming-water-quality/
In 2006 and 2007 investigative sampling was carried out at recreational bathing sites that have had ongoing poor microbiological water quality. This involves collecting extra samples to be analysed using investigative techniques such as testing for fluorescent whitening agents (originating from washing detergents) and faecal sterols (can be used to distinguish the source of faecal contamination e.g. human, cows, pigs). This sampling will be more frequently used in the future at both problem recreational bathing and RWQMN sites. It will also be used to investigate environmental incidents and consented discharges as required.
Specific catchment projects
Otarao catchment study
Otarao catchment project is a joint project between the NRC, Mangakahia Landcare Group, NZ Landcare Trust and the landowners in the catchment, which was started in 2002. Otarao Stream is approximately 2500ha in size and a sub-catchment of the Mangakahia River. The catchment has varying land uses including one dairy farm and dairy run-offs, forestry, sheep and beef farms, native bush and lifestyle blocks.
The purpose of the water quality-monitoring component of the project is to characterise the existing water quality of the catchment, and to identify any issues that may exist. Restoration work has started in the catchment with the overall aim of improving water quality in the Otarao Stream. Restoration work and sampling will continue in the future.
Puwera catchment study
Puwera catchment was one of a number of dairy farming catchments throughout NZ selected to be part of a study funded by the Ministry for the Environments' Sustainable Management Fund. In July 2006 the 12-month base-line monitoring commenced in the Puwera Stream catchment, near Whangarei. The purpose of the study is to collect a comprehensive body of environmental information that enables the benefits of implementing the Clean Streams Accord to be identified over time.
The Puwera Stream is located in a predominantly dairy farming catchment (at least 70% of the catchment land use is dairy farming). The balance is drystock farms with the recent addition of some "lifestyle" blocks.
The results from the first year of sampling show that both flows and water quality vary considerably throughout the year at the two sites sampled. Otherwise it is too early to draw further conclusions with regard to water quality and implementation of the Clean Streams Accord. The fact that many of the tributaries of the Puwera Stream are smaller than the Accord definition of a 'stream', which is "deeper than a 'Red Band' (ankle depth), wider than a stride and permanently flowing", means that they will not require stock exclusion under the Accord. This may impact on the amount of improvement in water quality seen in the Puwera catchment.
For more information refer to the detailed report on the Regional Council website at the following link:
http://www.nrc.govt.nz/Resource-Library-Summary/Research-and-reports/Rivers-and-streams/
Other responses
Environmental care groups
There are many environmental care groups throughout Northland that are taking action to enhance the environment. The overall aim of most of these groups is to enhance environmental quality, whether this is biodiversity or water quality, through a range of work such as pest and weed control, riparian planting and fencing off of waterways and coastal areas and raising public awareness about the environment.
Some examples of environmental care groups are the Bushland Trust, which has done significant amounts of restoration work around the Sweetwater Lakes on Aupouri Peninsula and the Mangakahia Landcare Group which has been working in the Mangakahia River catchment. For more information on some of the work that the Mangakahia Landcare Group has been carrying out, check out case study 2.
Regional Council Environment Fund
The Northland Regional Council Environment Fund has provided more than $1.5 million to help people improve and protect Northland's natural environment since 1996. The Environment Fund is used to assist with funding projects to restore and enhance the natural environment, including the fencing off of native bush and waterways, including rivers, lakes and wetlands, coastal dune management and restoration work including planting of riparian vegetation and pest control.
Earthworks Workshops
The Regional Council has held eight erosion and sediment control workshops for developers, earthwork contractors and planners in 2006 and 2007. The aim of the workshops was to increase understanding on best management practices to reduce adverse effects on the environment from earthworks.
The workshops covered the erosion and sediment control standards required by the Resource Management Act and Regional Council plans, the skills needed to ensure staff and subcontractors meet these standards and how contractors can improve their site compliance record. Some of the many topics covered during the course include:
· The extent of sediment run off and erosion in Northland.
· What impact sediment has on the environment.
· Tactics and tools for dust, erosion and sediment control.
· Legal requirements and potential penalties.
· Overall site management.
So far a total of about 200 people from 50 different companies/organisations have attended. Very positive feedback has been received from attendees and there is still significant interest from contractors who have not yet been able to attend due to courses being fully booked. More workshops will be held in the future as required.
Education and public awareness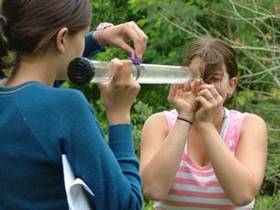 The Regional Council provides information to the general public and schools on environmental issues, environmental management and the role of the council, including surface water quality. This is carried out through exhibits at field days and shows, media releases, newsletters, council publications and workshops on regional environmental matters for the general public. Also at least 40 school visits by NRC environmental educators, teacher workshops and a youth summit are carried out every year for teachers and school students.
Right: Students learning how to test water clarity using the clarity tube from the Stream Health and Monitoring Assessment Kit (SHMAK).
Many schools, stream care groups and landowners have learnt how to check the quality of streams using the Stream Health and Monitoring Assessment Kit (SHMAK), which can be purchased from NIWA.