Ex-Tropical Cyclone Wilma 28-29 January 2011
Within this section…
On 27 January 2011 the New Zealand Meteorological forecasters issued a severe rain warning for Northland as the remnants of ex-Tropical Cyclone Wilma approached the region.
Rainfall amounts were predicted to be from 100mm to 150mm, but reaching up to 200mm about the eastern hills over a period of 21 hours. Northland was to take the full impact of this weather system.
The council issued media releases, warning Northlanders of the potential for widespread flooding and strong winds.
Rainfall amounts exceeded those predicted by the MetService. Over 250mm was recorded along the eastern areas of the region from the Mangōnui Forest north of Kaeo to Mangawhai. The storm lasted 18 hours from 9am 28 January to 3am 29 January. Seventy-five percent of the total rain for this event occurred over eight hours from 4pm to midnight on 28 January. Rainfall intensities over this period were continuous at 25 to 40mm/hr.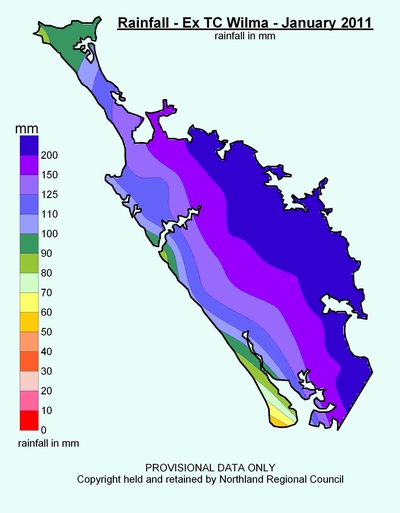 Map - Cyclone Wilma total rainfall amounts (mm).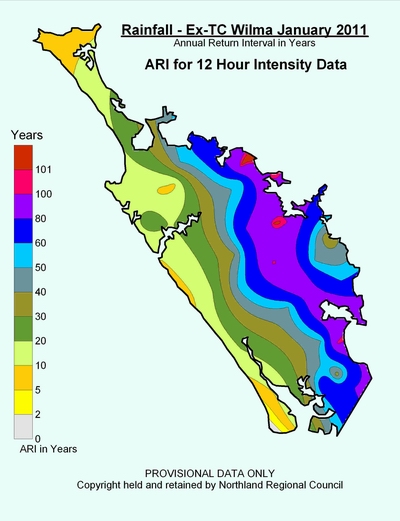 Map - Return periods (years) rainfall intensities for 12-hour duration.
The high rainfall amounts over a short period resulted in:
· Rapidly rising rivers and streams, elevating levels to record heights;
· Severe scouring in drains, culverts, rivers and roads;
· Widespread flooding of low lying areas, secondary roads and state highways; and
· High sediment input to estuaries and harbours.
Record river levels and flows were recorded in the river catchments of the Oruru (Taipā), Kaeo, Waitangi (Kerikeri), Kawakawa, Wairua, Mangakāhia, Whāngārei central business district and Ruakaka.
Civil Defence Emergency Management response
· Emergency services, Northland Regional Council, Far North, Whāngārei, and Kaipara district councils and the Welfare Advisory Group implemented response plans.
· There were a significant number of high risk incidents and some rescues however there was no loss of life.
· The combination of a holiday weekend (people away) and the nature and scale (during the night – quick river rises – larger event than anticipated) meant most responding organisations were stretched.
· Large number of road closures.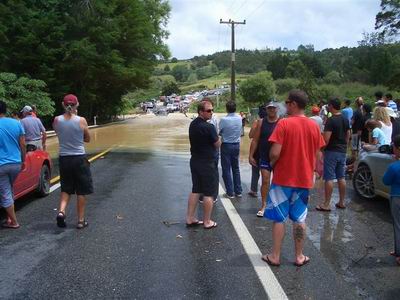 State Highway One flooded at Moerewa.
Impacts of the cyclone
· Damage to infrastructure such as roading, sewerage and water supply systems in Whāngārei and Far North districts;
· Flood damage to homes, contents and personal possessions;
· Impact on business and facilities; and
· Damage to pasture, fences, culverts, drains etc, but low stock losses.