Impact on the environment
Every incident reported to the council is graded according to the impact it has on the receiving environment, that is, where it ends up. In 2010-2011, 18 percent of the incidents reported to the council had no detectable impact on the environment and 47 percent had only a minor impact – they were short-lived and/or affected only a small area and caused no significant damage to the environment.
On the other hand, two percent of the incidents reported to the council had a significant impact on the environment – they were long-lived and/or occurred over a large area. The majority of these incidents were of a short duration and were mainly discharges to waterways.
Of the completed incidents during 2010-2011:
· 51 percent did not require follow-up action or were a result of natural events;
· 31 percent were compliant with the Resource Management Act or rules in relevant regional plans;
· 12 percent were referred to other agencies for action; and
· Seven percent resulted in formal enforcement action.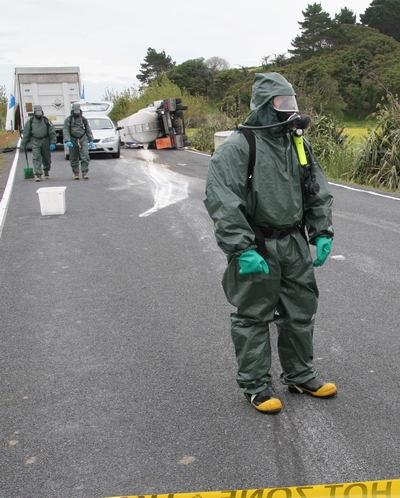 Sulphuric acid spill.