Case study – Whāngārei heads
Since 2002 the Whāngārei Heads Landcare Forum has been carrying out a successful kiwi recovery project at the Whāngārei Heads.
Local Landcare groups at the Heads formed the WHLF – the Landcare groups are made up of locals carrying out pest management and revegetation work in their own backyards. They run an extensive kiwi predator trapping network over the peninsula with traps largely purchased through funding from the Northland Regional Council.
The kiwi population in the area has increased from approximately 80 in 2002 to more than 300 today. The recovery work has strong community support and has included a recent increase in publicity through the WHLF's website www.backyardkiwi.org.nz and road signage to make visitors aware of kiwi in the area.
The Regional Council has recently funded a Pest Control Project Manager to co-ordinate ongoing work at Whāngārei Heads. The Whāngārei Heads Landcare Forum is continuing a decade of work done to remove forest invasive weeds with a major Regional Council-funded project working from the Bream Head end of the peninsula northwards over the next several years.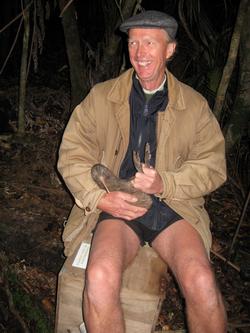 Photo: Philip King of WHLF about to release a kiwi at Kauri Mountain