Waste Hazardous Substances
Within this section…
Collection and Operational Depots
The Council, in conjunction with PGG Wrightson Ltd, operates four collection depots in Northland for unused waste hazardous substances. To find out more about these facilities, go to www.nrc.govt.nz/agrichemicalcollection
The Council also operates a mobile collection service for the collection of chemicals that may be leaking or in broken containers, from individual properties. To learn more about disposing of hazardous household waste, go to www.nrc.govt.nz/homehazwaste
Once collected, the waste is transported to the Council offices in Whangarei, where it is repackaged, labelled and placed in temporary storage before being taken to Auckland for long-term storage and disposal. The collection programme allows people to dispose of waste hazardous substances responsibly, at no extra cost, rather than dumping them in the natural environment.
Photo: Unused waste hazardous substances collected through the joint project.
Waste Hazardous Substances Collected
In 2008-09, the Regional Council collected a total of 5717kg of waste chemicals from around the region. Of this waste, 4463kg was sent to Auckland for processing, treatment, recycling (where possible) and final disposal. The remainder, including 576kg of solid and 678kg of liquid waste, will be exported overseas for destruction.
Of the total quantity of waste collected in 2008-09, only 3% was classified as a persistent organic pollutant (POP). Some of these chemicals are particularly harmful to the environment because they take a long time to break down. Some of these chemicals, such as PCB's and DDT, are sent overseas for destruction by high temperature incineration. The quantity of POPs collected in 2008-09 was dramatically down on the quantity collected in 2007-08, which was then 17% of the total.
Workplace Inspections and Emergency Response
Regional Council staff also carry out inspections of workplaces in the region that store and/or use hazardous substances, to check they comply with the Hazardous Substances and New Organisms Act (HSNO) 1996. In 2008-09, Council staff spent 608 hours on workplace inspections for hazardous substances compliance in Northland.
The Council also provides a 24-hour, seven day a week incident response team for incidents involving hazardous substances. In 2008-09, this team attended 16 incidents involving hazardous substances, including a tanker of sulphuric acid that overturned at Tokatoka, south of Dargaville. The Council coordinated the clean-up of the site and helped to ensure the incident ended positively.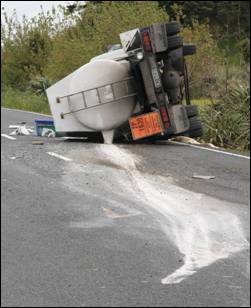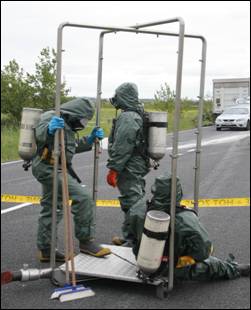 Photo: A sulphuric acid spill at Tokatoka in November 2008 saw the Regional Council hazardous waste team swing into action.