Solid Waste Management
The Regional Council has a Waste Minimisation Strategy and takes part in events such as eDay, with the aim of encouraging industry, business and households to reduce their waste production for the benefit of the environment. To find out how you can reduce rubbish in your home, go to www.reducerubbish.govt.nz.
eDay is a national event in which the public can drop-off computer waste and cellphones for recycling at designated collection points on a specified day each year. An estimated 95 percent of the equipment collected is recyclable or reusable. The waste is shipped to purpose designed facilities that can remove reusable materials from the waste in an environmentally sustainable way. This means that waste is not dumped on third world markets that may not have the facilities to dispose of the waste safely.
In 2008, 40 tonnes of obsolete computer equipment and unwanted mobile phones were collected from depots in Kaitaia, Kaikohe, Kerikeri and Whangarei. More than 16,550 cars dropped off 87,056 items nationally. The total amount of waste collected across the country was 946 tonnes, waste which would otherwise have ended up in landfill.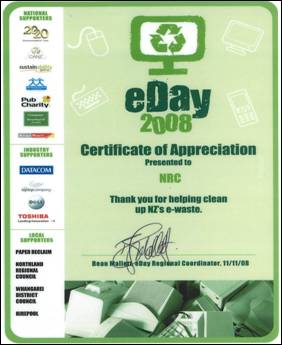 Photo: the Regional Council's eDay certificate