River Water Quality Monitoring Network
The Regional Council monitors water quality in a selection of the region's rivers and streams through the River Water Quality Monitoring Network (RWQMN). In 2008-09, 35 sites were included in this network, of which four are part of the National River Water Quality Network, monitored by the National Institute of Water and Atmospheric Research (NIWA). Results from these four sites are used to compare results from Northland with results from rivers and streams across the rest of New Zealand.
Water quality at each site is monitored monthly for a range of properties, such as bacteria, nutrients and temperature, and stream macroinvertebrates are surveyed annually. Most results are compared to the New Zealand trigger values for the protection of aquatic environments, found in the 'Australian and New Zealand Guidelines for Fresh and Marine Water Quality' (ANZECC 2000). The majority of sites in the network now have enough data to identify long-term trends.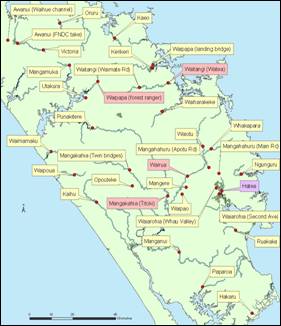 Map: Sites monitored by the Council in the RWQMN (yellow). The pink sites are monitored by NIWA and the purple label was added to the Council's network in July.