The Hydrometric Network
Monitoring Northland's climate and water resources is an important function of the Regional Council. The information gathered allows the Council to make informed decisions about the Region's environmental resources, as well as providing valuable information during Civil Defence emergencies, such as severe storms.
Regional Council monitoring stations have been located to provide region-wide coverage. In 2008-09, the hydrometric network consisted of:
· 53 manual rainfall stations and 31 automatic rainfall stations
· 14 manual lake level monitoring stations
· 35 automatic water level monitoring stations
· 7 automatic tidal water level monitoring stations
· 8 automatic and 63 manual groundwater level monitoring stations
In addition, the National Institute of Water and Atmospheric Research (NIWA) and the MetService operate their own stations in the region.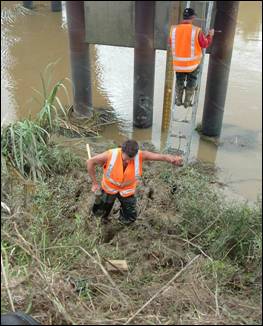 Photo: Regional Council staff installing a water level recorder