Lake Omapere
Within this section…
The Lake Omapere Trust and Northland Regional Council are working in partnership on the Lake Omapere Restoration and Management Project funded by the Ministry for the Environment's Sustainable Management Fund. The overall aim of this project is to improve water quality and the overall health of Lake Omapere in the long term.
The project includes:
The development of a lake management strategy.
Water quality monitoring.
Enhancement of indigenous biodiversity including terrestrial and aquatic plants, freshwater mussels and fish.
Surveillance monitoring for the invasive aquatic weed, Egeria densa .
Working with landowners to reduce nutrient inputs into the lake.
Community involvement in planting days.
Relationship building between Lake Omapere trustees, key stakeholders (including the Regional Council, Far North District Council, Te Runanga a iwi o Ngapuhi, Department of Conservation and the Ministry for the Environment), landowners and the community (including local schools, landcare and iwi groups)
The following report is purely a summary of the water quality monitoring carried out in Lake Omapere. Find out more about the Lake Omapere Restoration and Management Project
Water Quality Monitoring
Water quality sampling is carried out monthly at two locations on the lake, each with two sites (75 and 25% depth), and at the lake outlet. Field measurements of temperature, dissolved oxygen, conductivity and water clarity (using a secchi disc) are taken at these five routine sites and samples are collected for analysis of suspended solids (total and organic), chlorophyll a (indication of algal biomass), pH, nitrogen and phosphorus. Since December 2003 extra samples have been collected to determine the number of cyanobacterial (blue-green algae) cells and cyanobacterial toxin levels, from one lake site and the outlet.
The results from July 2005 to June 2006 are summarised below. A full report is available in the Lake Omapere Restoration Project section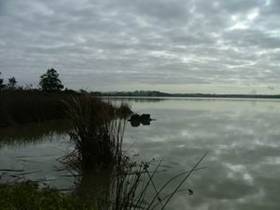 Summary of results
Water quality in Lake Omapere remained poor over the last financial year. Based on the average results for 2005-2006 year, total phosphorus, secchi depth and chlorophyll α indicate that Lake Omapere is in a hypertrophic state as shown in the table below, meaning it is highly enriched with poor water clarity and frequent algal blooms and surface scums. While total nitrogen indicates a slightly better trophic level of supertrophic. However, when you take the average of the four tropic levels to calculate the overall trophic level index (TLI), Lake Omapere is clearly in a hypertrophic state.
| | | | |
| --- | --- | --- | --- |
| Parameter | Average for 2005-2006 | For hypertrophic lake | Trophic level |
| Total nitrogen (g/m3) | 1.45 | > 1.558 | 5.91 |
| Total phosphorus (g/m3) | 0.117 | > 0.096 | 6.26 |
| Secchi depth (m) | 0.33 | < 0.4 | 6.18 |
| Chlorophyll α (g/m3) | 0.060 | > 0.031 | 6.73 |
| Overall Trophic Level Index (TLI) | - | 6.0 -7.0 | 6.27 |
The trend analysis showed that water quality has not improved in Lake Omapere in the last 10 years and in fact with the shift from a weed dominated lake to an algal dominated lake in the end of 2001, water quality has deteriorated.
Water quality monitoring is closely linked to the other components of the Lake Omapere Restoration and Management Strategy. The integrated catchment component, enhancement of the freshwater mussel population and re-establishment of native aquatic plants are all vital in improving water quality in Lake Omapere. However, the freshwater mussels and native aquatic plants are also dependent on water quality improving, particularly clarity, before successful enhancement can occur.
Find out more about the Lake Omapere Restoration Project