Solid Waste Management
Within this section…
Landfill monitoring
Under the Resource Management Act 1991, the vast majority of small, and often poorly planned rural tips (landfills) throughout Northland have closed, and in most cases been replaced with transfer stations. Also with the recent closure of Pohe Island landfill in Whangarei, there are now only three landfill sites actively operating in the Northland region. Two of these are based in the Far North District at Ahipara and Russell and one in the Kaipara District at Hakaru near Mangawhai.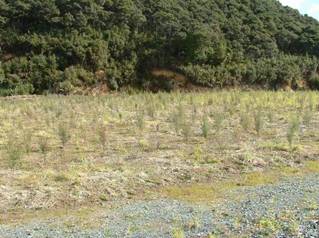 Photo of the closed landfill at Whangae near Opua where they have planted manuka trees to help rehabilitate site.
Operational landfills are monitored either seasonally or biannually, while closed landfills are visually inspected every year. Surface water, groundwater and sediment samples are collected from sites adjacent to the operational landfills. These samples are then analysed for a range of parameters, including general water quality indicators and potential contaminants (such as heavy metals). In addition, organic scans are carried out annually on samples of landfill leachate, to screen for the possible presence of pesticide residues and other contaminants.
All landfills monitored in the 2005 - 06 year were within their specified resource consent limits and there was no evidence of any significant contamination to nearby waterways.
Resource Recovery Park
The Pohe Island landfill site, which has been Whangarei Districts' main refuse disposal site since 1964, finally closed on 31 October 2005. On 1 November 2005 the new Resource Recovery Park located in Rewarewa Road opened for business.
The new park accepts refuse and recycling from the Whangarei Districts' refuse transfer stations, kerbside collections and direct delivery by residents. All refuse is transported to Redvale Landfill in Auckland for disposal. The large recycling centre has been set up to accept all recyclable materials.
Green waste will also be accepted at the Resource Recovery Park. It also will be transported to Auckland for chipping, mulching and made into compost.
The Council has shifted its waste hazardous substances temporary storage and packaging facility to the resource recovery park. Waste hazardous substances collected from the various depots around the region and those deposited at the Resource Recovery Park will be sorted, packed and temporarily stored prior to being transported to Auckland or overseas for disposal.