Story
Community pest control boosts local bird life
Regular visits by a pair of kukupa to Dean Wright's Opito Bay property are just one of the signals that native bird life is returning in force to the Kerikeri Peninsula.
Dean, an active member of the Kerikeri Peninsula's community pest control group, says that after two and a half years of intensive trapping across the peninsula, native bird numbers are on the rise.
"We began with a few local champions door-knocking around Doves Bay and Opito Bay, and now there are more than 200 properties involved on the peninsula, and 120 trappers across the network.
"It's really gratifying seeing bird numbers growing, and part of our job now is to make sure we're also planting more trees for these birds to feed on."
Since trapping records started in May 2017, nearly 5000 animal pests have been removed including 1759 rats, 285 possums and 53 stoats. More than 30 local dogs recently went through kiwi aversion training, and more training is planned for the future.
Dean's involvement with Kerikeri Peninsula pest control began after he and his wife Deb saw what had been achieved in Project Island Song, which has been restoring pest-free islands in the Eastern Bay of Islands.
"We'd seen what a difference could be made so Fleur Corbett, chair of Project Island Song, lent us some traps – and we were amazed by how many rats we caught," says Dean.
Local pest control efforts were brought together in 2017 when Kerikeri Peninsula was established as a 1200ha Community Pest Control Area with Northland Regional Council, alongside NZ Kiwi Foundation, Aroha Island/QEII Trust, and Department of Conservation.
"Northland Regional Council, and Mike Knight in particular, have been an amazing support on this journey," says Dean.
"We've got a community that's really active and motivated to get involved, but if we'd had to fundraise ourselves for all the equipment and support needed it just wouldn't have happened."
He says with the Bay of Islands having been designated a 'high-value' area for council's pest control support, it has enabled the Kerikeri group to build valuable connections and synergies with other community groups in the area.
Along with the positive impacts for native bird life and trees, Dean says the project has had real benefits for the local community too.
"It's building a wonderful connection within the community. It's been a great way to get to know the people around us, and it's really heartening how willing people are to get involved."
Find out more about Kerikeri Peninsula pest control: kpcct.kiwi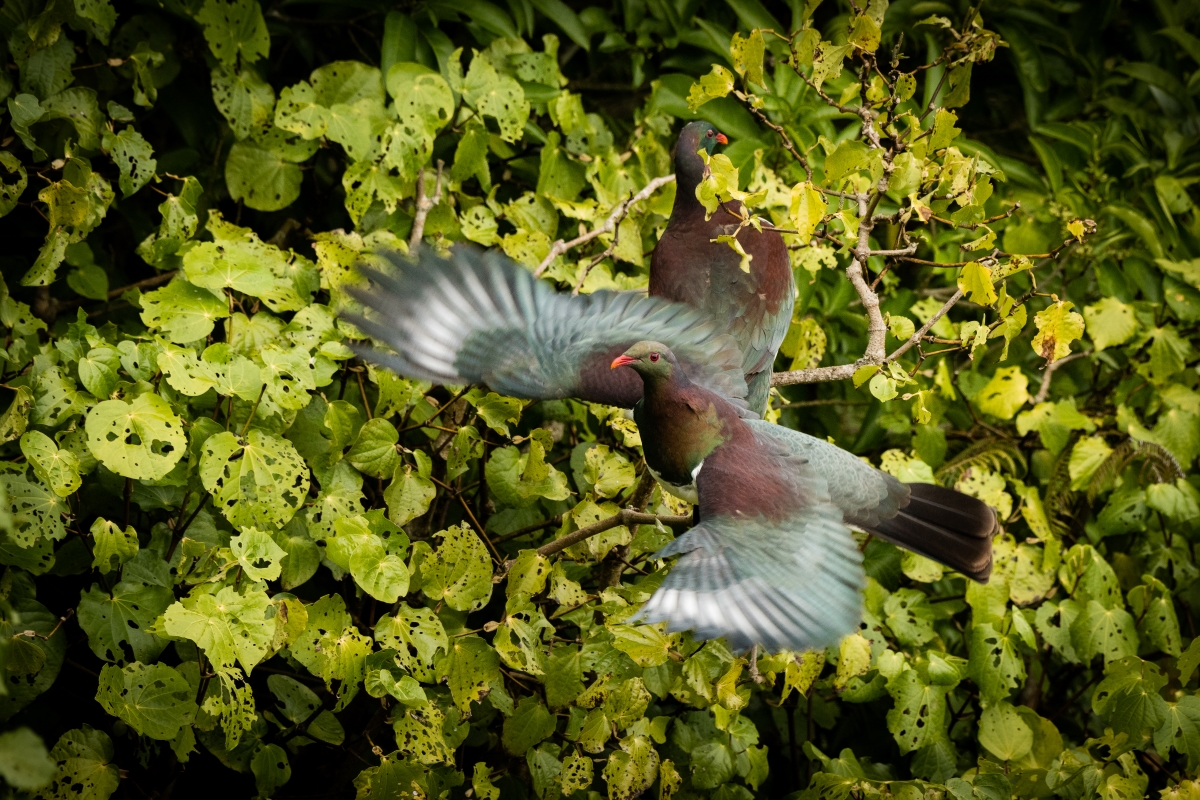 This pair of kukupa are regular visitors to Dean Wright's Opito Bay property. (Photo: Dean Wright).