Story
Environment Fund allows native species to thrive: Case study
For Martin Luff, the purchasing of a 20.8ha lifestyle property in Matapouri eight years ago was a means of escaping the hectic lifestyle of Auckland. The land is home to several native species, including pāteke (brown teal) and kiwi.
With dreams to one day retire at the property, Martin could see there was plenty of work to be done. "The land was absolutely written off - it was just so overgrown," says Martin.
Four years later he went on to purchase a 293ha beef farm in Whananaki which, after several changes in ownership, had deteriorated with degrading infrastructure and a lack of riparian fencing.
As a child Martin's mother instilled in him the importance of protecting the environment and remembers his dad partaking in riparian planting on the family's farm in Taranaki.
Having been granted over $15,000 from Northland Regional Council's Environment Fund, Martin has been able to honour his parents by implementing sustainability solutions to improve his two properties.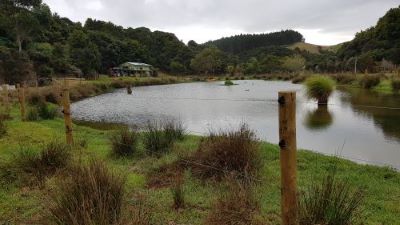 The funding has allowed him to fence off streams and create a wetland area for the endangered pāteke that reside on his Matapouri property, as well as fence off bush area at his Whananaki farm for protection against kauri dieback.
Martin says the guidance and support of Northland Regional Council's Land Management Advisor John Ballinger and Biosecurity Specialist Pete Graham has been invaluable.   
"They've been fantastic. Not just with the funding but all the advice they've given too. I hope we can continue to carry on the relationship."
While he says there is still work to be done, Martin's drive to do so is strong. 
"We have to return our land to how it was. How it should be," he says.