Local Govt Commission Northland reform move welcomed
9 Jun 2015, 2:44 PM
Today's announcement the Local Government Commission is abandoning its 19-month-old draft proposal for a single Northland unitary council has been welcomed by Northland Regional Council chairman Bill Shepherd.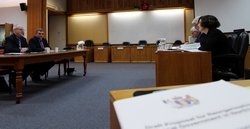 Regional council chairman Bill Shepherd, left, and CEO Malcolm Nicolson formally deliver the council's submission opposing the draft Northland reform proposal last year.
The commission revealed today it had decided not to proceed with its draft proposal, but would instead return to Northland and work with its communities to try to develop other options to address the challenges the region is facing.
Councillor Shepherd says today's announcement ends months of uncertainty over a process that had been in train for several years, but which had to all intents and purposes been stalled since early last year.
"We told the Local Government Commission during its reform hearings in March last year that we couldn't support its draft proposal as it stood at that time; we asked it to do more work and then issue a fresh draft. The ball has been in its court since then."
Councillor Shepherd says a general election and other high-profile reorganisation proposals elsewhere, including Wellington, had meant the fate of the original draft had taken much longer to resolve than many Northlanders would have liked.
"But at the end of the day, we've now got some certainty going forward, as well as an acknowledgement that some local government change is necessary to ensure regions like ours can be more effective and efficient in future."
He says the heart of his council's opposition to the LGC's draft had been the commission's heavy reliance on 'community boards', with the council keen to see much stronger 'local boards' with their own powers and budgets introduced. Similarly, the regional council felt any final proposal by the LGC should have included a wider range of options for Maori representation/decision-making.
Those issues did not disappear with today's decision and the regional council looked forward to collaborating and engaging with its fellow councils and communities in Northland on reform.
Commission chief executive Sandra Preston says as required under the Local Government Act, if this process resulted in new options for reform with community support, the commission would then prepare a new draft proposal for wider consultation.
Councillor Shepherd says since the draft proposal was first released in November 2013, Northland's councils had subsequently made progress in identifying ways to provide better local government through better collaboration and potential shared services.
"The commission hopes to work with the community in building on that momentum and the Northland Regional Council will certainly be keen to do so, as I'm sure our fellow councils will be."
He says the regional council still felt there were a number of key issues facing the region that would benefit from a Northland-wide approach including roading, water, Civil Defence, sewage and economic development.
While shared services did offer potential solutions to some of these, personally he felt some form of "legislative assistance" might still be needed to translate that into action.
"With so many parties involved, even with all the goodwill in the world, I think we need to be upfront and acknowledge from the outset that it may ultimately require legislative change to implement."
He says the reform issue will no doubt be a hot topic at next week's Northland Mayoral Forum.