Northland wins $650k-plus share of hill country erosion fund
1 Jul 2015, 3:44 PM
Northland has been awarded a 15 percent share – more than $650,000 – of a contestable national fund for regional projects that protect erosion-prone hill country.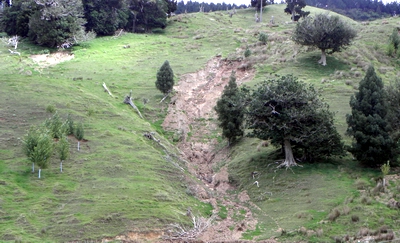 An application by Northland Regional Council's land management team has secured $650,000-plus in funding over four years, from the Sustainable Land Management Hill Country Erosion Programme, administered by the Ministry for Primary Industries.
The funding will assist with soil conservation initiatives in the Kaipara catchment, helping address longstanding sediment issues in the Kaipara Harbour, which are contributing to a decline in ecosystem health.
Northland Regional Council chairman Bill Shepherd says the funding will be used to support the council's work with landowners.
Likely initiatives will include hill country farm plans, prepared by the regional council land management team, to help owners target soil conservation through measures such as afforestation of land and planting of poplars and willows.
Councillor Shepherd says while previously, the available funding had gone to other regions, this time round Northland had received a 15 percent share "an excellent outcome considering the fund had been oversubscribed nationally".
"Together with the Government's recently re-launched Afforestation Grant Scheme (AGS), which will see $19.5 million made available nationwide over the next five years to subsidise the planting of forests on erosion-prone land, there's currently a great deal of support available for erosion control."
The Kaipara is New Zealand's largest harbour and is valued for cultural, recreational, commercial and environmental reasons. It is a major nursery for many species (including about 98% of the snapper found on the west coast) and is important to both commercial and recreational fishers.
Councillor Shepherd, a farmer who lives within the Kaipara catchment, said sedimentation has been a longstanding issue in the catchment, dating back to the clearance of forests by settlers.
The Kaipara Harbour catchment encompasses 474,000 hectares of land in the Northland region, with 17% of this area identified as hill country with high erosion risk.
The application was supported by the Auckland Council and also the Integrated Kaipara Harbour Management Group (IKHMG), which brings together hapu, councils, research agencies, farmers, fishers and other users to promote integrated management of the Kaipara Harbour and catchment.
IKHMG spokesperson Deborah Harding commented: "Elevated sediment loading has been identified as having a major impact on the harbour ecosystems; in particular, sediment from the Northern Wairoa River system that gets distributed through much of the harbour."
"Impacts include smothering of shellfish beds, loss of sea grass and reduced water clarity. Sediment deposition rates are currently at levels 10 times higher than pre-European levels. Any initiatives that result in a reduction in the amount of sediment entering the harbour will be beneficial to the health of the harbour ecosystems."
For more information on the Ministry for Primary Industries' Sustainable Land Management Hill Country Erosion Programme, go to:
http://www.mpi.govt.nz/funding-and-programmes/farming/sustainable-land-management-and-hill-country-erosion-programme
For more information on the Northland Regional Council Environment Fund, go to:
www.nrc.govt.nz/environmentfund
For more information on the Government's Afforestation Grant Scheme, go to:
www.mpi.govt.nz/funding-and-programmes/forestry/afforestation-grant-scheme