Councillors begin delivering 2015 NRC environmental awards
23 Jul 2015, 9:37 AM
Northland Regional Council members have begun delivering $20,000 worth of Environmental Curriculum Awards (ECAs) to more than 20 schools around the region.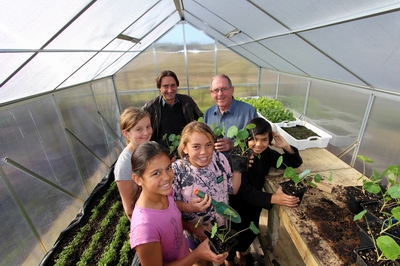 The annual awards aim to foster excellence in environmental education, with schools eligible for up to $2000 each for their efforts to educate children 'in, about and for' the region's environment.
This year 23 recipients will receive between $230 and $1550 each for two dozen projects including farm fertiliser runoff monitoring and a stoat and rat trapping programme to boost kiwi numbers.
The council's newest councillor, Kaitaia-based Monty Knight, who represents the region's most northerly Te Hiku constituency, says it's a privilege to be part of a programme recognising the efforts of so many young people.
Councillor Knight, right rear, is pictured with principal Fraser Smith and students from Kaitaia's Oturu School, which is using its $500 of 2015 ECA funding to help meet the cost of new shelving and soil in its greenhouses.
Councillor Knight says this year's ECAs recognise and support the environmental education efforts put in by about 2000 students in 112 classes and/or school student environmental groups.
He's pleased to see a good geographic spread among the winners, with seven winning schools based in the Far North, 12 in the Whangarei district and four in Kaipara.
"Delivery of this year's awards began this week at Otaika School in the Whangarei District and will continue in the Far North next week," he says. "The final award will be delivered at Kaipara's Ruawai Primary School in early September."
All nine regional councillors will be involved in the ECA delivery roadshow, visiting winning schools in their respective local areas.