Sixteen attend Enviroschools' workshop for caretakers
26 Sep 2014, 1:29 PM
Sixteen participants from around Northland gathered in Kaipara for a special Enviroschools Northland caretaker workshop yesterday.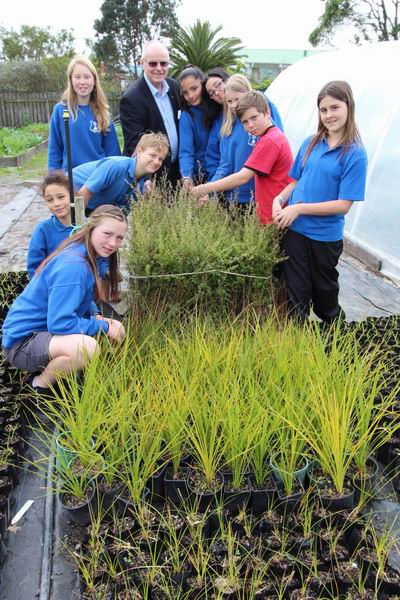 Bill Shepherd, chairman of the Northland Regional Council, with Dargaville Intermediate pupils at the school's plant nursery. Councillor Shepherd was at the school yesterday to open a caretaker workshop for Enviroschools Northland, which included a focus on growing riparian plants in schools.
The Northland Regional Council played a key role in bringing Enviroschools north more than a decade ago in 2003 and there are now more than 70 local schools in the popular programme.
The regional council's chairman Bill Shepherd says the free day-long workshop at Dargaville Intermediate School investigated ways Northland caretakers could support their school's Enviroschools' journey, with participants from as far afield as Kaeo.
"They explored a range of sustainable practices and shared problems and solutions to school property management. There was also a focus on 'WaiNurseries', an Enviroschools' project through which schools grow riparian plants."
Councillor Shepherd says the workshop had also looked at ways caretakers could involve students in their work where appropriate.
Councillor Shepherd opened the event, which also featured guest speakers including Whangarei-based CBEC EcoSolutions' educator Anton Bowker on waste management systems, regional council biodiversity Land Management Advisor Bruce Griffin, Dargaville Intermediate Deputy Principal Diane Papworth and caretaker Dennis Hewetson and his Hukerenui counterpart caretaker Alister McDermid.
He says the workshop is the third held by the regional council is recent years and is specifically designed to recognise the value of caretakers, the role they play and encourage them to incorporate some of the ideas children attending their schools may have to enhance their school environment.
"The Northland Regional Council is committed to educating young people to be our region's future environmental managers and the Enviroschools Programme is a key tool for us achieving that."
Councillor Shepherd says information about the Enviroschools programme is available via the regional council's website www.nrc.govt.nz/enviroschools