'On the Water' latest Enviroschools annual expos
10 Nov 2014, 10:49 AM
More than 230 students, teachers, family and community members have gathered at Waitangi and Marsden Cove to learn more about our precious marine environment at this year's Enviroschools regional expos.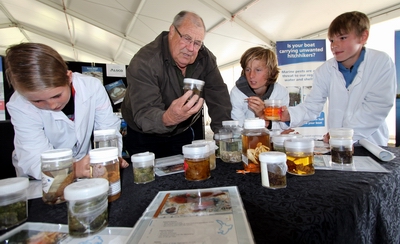 Northland Regional Council member Craig Brown and young participants at the recent Enviroschools 'On the Water' expo at Marsden Cove take a closer look at specimens of some of the many would-be invaders posing a risk to our marine environment.
The two annual expos for primary and intermediate students – this year themed 'On the Water' – were held at Bay of Islands Yacht Club at Waitangi on Tuesday 04 November and a second at Marsden Cove two days later.
Northland Regional Council member Craig Brown – who attended the second expo – says both had been very well received by the enthusiastic participants.
Councillor Brown, whose Coastal South constituency includes Bream Bay where Marsden Cove is based, says while fun and hands on, the expos had nonetheless covered some serious issues.
Each day-long expo had seen participants rotating between four 'action stations'; 'marine invader science experiments', 'whale rescue training', 'water craft safety' and 'paddling waka'.
Councillor Brown says the first had included a working laboratory where students had donned lab coats to examine and identify a variety of marine invaders, while the Department of Conservation had led whale rescue training, complete with inflatable whales.
A water craft safety segment had examined how students could safely take to the water on kayaks, paddleboards jetskis and other vessels, while both traditional and modern waka offered a broader cultural experience.
He says a great deal of the regional council's work revolves in some way around Northland's extensive coastal marine area, one of the largest in New Zealand.
"Northland is well-known internationally for its marine environment and it holds a special place not just in the in the hearts of locals but also for a great many people from outside the region", Cr Brown says.
However, as well as being a great recreational playground, the marine environment was also a cultural treasure, a source of food and a way many in Northland also earned their living.
"It's absolutely crucial that we all do our very best to protect and sustain our environment for future generations which is a key part of the Enviroschools philosophy."
Councillor Brown says the regional council introduced the popular Enviroschools programme to Northland more than 10 years ago and there are now more than 70 schools in the programme region-wide.
"One of the guiding principles of the programme is sustainable communities (schools, ecosystems and people) and the way these work together for future good. The expos have once again reinforced this link."
Meanwhile, he says information about the Enviroschools Programme generally is available from the regional council's website via: www.nrc.govt.nz/enviroschools