Six Whangarei district schools win $6580 environmental awards
25 Jul 2014, 10:06 AM
The Northland Regional Council has begun presenting cheques to the six schools in the Whangarei district which are sharing a $6580 slice of this year's Environmental Curriculum Awards (ECAs).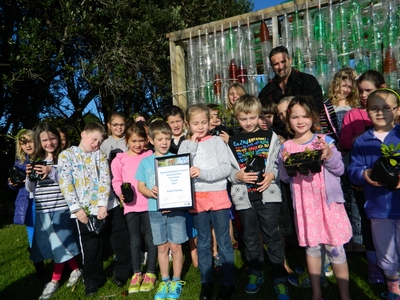 Northland Regional Councillor David Sinclair among some of Kamo Primary School's keenest environmental education champions. The school's environmental efforts received a boost this week when it received a $400 Northland Regional Council Environmental Curriculum Award.
Kamo Primary School students are pictured with Councillor David Sinclair who visited them on Tuesday to hand over the first of six cheques to the Whangarei district winners. (This year 13 award winners across Northland will receive between $400 and $2000 each for their 15 projects.)
The annual awards aim to foster excellence in environmental education, with schools eligible for up to $2000 each for their efforts to educate children 'in, about and for' the region's environment.
Six winning schools are based in the Whangarei district; Kamo Primary School ($400), Kamo Intermediate ($490), Otaika Valley School ($2000), Poroti School ($1500), Ruakaka School ($1200) and Waipu School ($990).
Presentation of those six cheques began with Kamo Primary and will finish late next month. They are scheduled to be delivered by a team of local regional councillors including Cr Sinclair and his colleagues John Bain, Craig Brown and Paul Dimery.
"It's great to see the wide range of environmental education work happening in Whangarei district schools," Cr Sinclair says.
"Learning to looking after our region today helps ensure our children a great tomorrow. This is very important to us as Northland Regional Councillors. We're pleased to be supporting these environmental education efforts as part of working with the community for a sustainable future," he says.
Meanwhile, of the remaining winners, five are based in the Far North district and two in Kaipara.
The ECAs this year recognise and support the environmental education efforts put in by more than 1100 Northland students in about 70 classes and/or school student environmental groups.