NRC's finalised Annual Plan released
2 Jul 2014, 12:10 PM
A nil average general rates increase, an extra $235,000 for its popular Environment Fund and an additional $163,000 for pest management are among the highlights of the Northland Regional Council's recently finalised Annual Plan for 2014/15.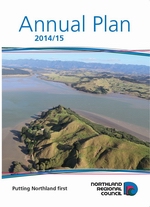 Council chairman Bill Shepherd says the council had previously received 240 public submissions on its 'business as usual' draft Annual Plan for the year which began on Tuesday.
"In essence, the draft hadn't proposed any significant changes or variations from the direction council had previously set out for the 2014/15 year when we adopted our Long Term Plan two years ago – other than much lower than proposed general rates and the potential sale of council's leasehold investment properties."
Councillor Shepherd says the council had previously forecast an average general rates rise of 7.22 percent for the next 12 months, but through a combination of careful cost management and better-than-expected returns on some investments had been able to hold the average increase to nil.
He says people had backed that approach during the public submission period of just over a month which had closed on Thursday 01 May.
For a Whangarei district ratepayer whose property has a $225,000 land value the nil increase will mean a total GST-inclusive rates bill of $240.45 over the next 12 months. A similar ratepayer in the Kaipara district will pay $207.84 in rates for the year and in the Far North $186.57. (All three figures exclude river management rates and the Kaitaia transport rate which are only levied on ratepayers in affected areas.)
Similarly, Cr Shepherd says council had asked the public whether it should have the discretion to sell any of its approximately 140 leasehold investment properties in Whangarei on a case-by-case basis.
"As a result of feedback and further consideration, council has now adopted this, with several provisos including that any sales be at or above market value."
Councillor Shepherd says some submitters had supported offering first option to the current leaseholder, while others thought council should exit investment property altogether.
"However, council thinks the case-by-case approach and criteria adopted will both protect the public capital value involved and deliver more benefit to Northland's residents and ratepayers than the alternatives proposed."
Councillor Shepherd says council also agreed to increase the size of its Environment Fund by $235,000 to a total of $635,000 to meet projected demand as proposed in the draft and this too had been supported by submissions.
"Also as a result of submissions, council has included additional funding of $163,000 for pest management at Kai Iwi Lakes and Taharoa Domain and to help fund a joint agency response to kauri dieback, which was also strongly supported by submitters."
Meanwhile, he says the council had received 180 submissions requesting its support and funding for surf lifesaving.
"We didn't fund surf lifesaving in this Annual Plan in line with an earlier recommendation not to consider applications for grant funding or establish a contestable fund to help hold our costs down. However, we were able to make a one-off grant payment of $20,000 to help fund surf lifesaving late in the 2013/14 financial year and will revisit the issue of grant funding as part of the development of our upcoming Long Term Plan 2015-2025."
Councillor Shepherd says council had signalled a commitment to establishing a relationship with Maori in its draft Annual Plan and on 13 May had set up a new standing committee 'Te Taitokerau Regional Maori Advisory Committee'. This too had been backed by submitters and the committee had met for the first time at Morewa recently.
He says overall the council is forecasting total operational spending of more than $29 million during the next 12 months, of which roughly half will be spent on resource management, including legally required 10-yearly reviews of its regional plans for air, water and soil and the coast.
Another 16% ($4.7M) will be spent on transport activity, nine percent on river management ($2.7M), nine percent on community representation and engagement ($2.7M), eight percent on economic development ($2.4M), five percent on hazard management ($1.4M) and two percent ($700,000) on support.
"Full details of the work the council is proposing for 2014/15 can be found in our Annual Plan on our website via www.nrc.govt.nz/annualplan
Hard copies are also available to view at public libraries and at all regional council offices.