Mini possum burgers the latest field days treat
11 Feb 2014, 2:57 PM
Mini possum burgers will be the latest tasty treat designed to entice visitors to the Northland Regional Council's marquee at the upcoming Northland Field Days in Dargaville.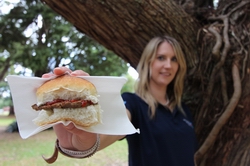 Natasha Stubbing with one of the free mini burgers that will be filled with possum meat patties and given away to attract visitors to the Northland Regional Council marquee at Dargaville's upcoming Northland Field Day.
In recent years the regional council has successfully used a variety of wild food treats – most made from pests – as a fun way of attracting visitors.
Natasha Stubbing, the regional council's Events and Partnerships Coordinator, says previous wild food treats have included wasp larvae ice-cream, possum and goat meat pies, possum pate and wild rabbit sausages.
This year's offering will once again turn a pest into something edible; mini burgers using meat sourced from about 100 possums trapped in the Maungakaramea area near Whangarei.
The possums are being sent to Whangarei's O'Dwyer's Butchery for boning and mincing in a process expected to yield about 40kg of meat, enough for roughly 1400 mini burgers. The burger buns are also being made locally by The Baker's Crust.
Ms Stubbing says they'll be served over the three days of the Thursday 27 February to Saturday 01 March field days from the council's usual location – site 251, RD1 Road.
The burgers are light-hearted way to boost visitor numbers to the council marquee to view displays and speak with staff about the more serious side of the regional council's work.
"This year the marquee will have a 'taking action' theme. We'll have activities for visitors to participate in and learn how to take action on a wide range of topics including pest plants and animals, land management and farm dairy effluent," Ms Stubbing says.
"Council specialists across a range of fields will be available to offer advice or chat about land-related issues people may have," Ms Stubbing says.
"Our chairman and some of our councillors are also expected to visit our marquee at the field days to catch up with and chat to the public about topical issues, including potential local government reform."