Lucky escape prompts warning to boaties
23 Dec 2014, 2:16 PM
It was lucky lives were not lost in an overnight collision between two launches at the entrance to Whangarei Harbour, Northland's Regional Harbourmaster says.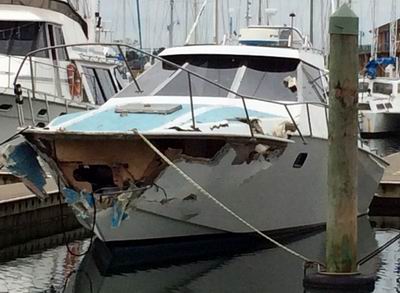 The occupants of this vessel had a lucky escape after an overnight collision between two launches at the entrance to Whangarei Harbour. (Photo: supplied)
Jim Lyle says the exact circumstances of the overnight incident – which left both boats with significant damage – are still being investigated by Maritime New Zealand.
However, he says the matter serves as a stark reminder about the importance of keeping a proper lookout and using correct navigation lights on the water.
Authorities were today still trying to speak with the owner of the more badly-damaged launch, which was roughly about 10-metres long, but understood it had eventually limped into Marsden Cove with extensive damage to its bow overnight. The other vessel had been removed from the water in Whangarei today for repairs.
"Unfortunately, this overnight incident shows just how easily and spectacularly things can go wrong and we're very lucky not to have had a serious injury, or even a death, as a result."
Irrespective of the cause, the incident comes as the Northland Regional Council tries to raise awareness of the importance of keeping a proper lookout and displaying the correct navigation lights at night or in restricted visibility.
Mr Lyle says one of the fundamental rules of navigation is 'see and be seen'.
"While that may or may not have been a factor in this latest case, too many boaties are placing themselves and others at unnecessary risk by ignoring this and travelling the region's harbours without the proper navigation lights or keeping a proper lookout."
Mr Lyle says a 'proper lookout' means exactly what it says; keeping a good degree of awareness around the entire vessel, not just the direction it is headed in.
Similarly, he says navigation lights are an essential part of a boat's safety equipment but suspects ignorance of the vital role they play is probably to blame for most cases where boats are not lit correctly.
While there are penalties for boaties who do not comply with navigation rules, the council's overriding concern is that someone could be injured or killed.
He urges people navigating in Northland waters to take the time to familiarise themselves with the requirements for navigation lights for their boat and to make sure those lights are fitted and switched on at night.
"Check you have the correct navigation lights at night, use them and make sure you keep a good lookout at all times regardless of how big or small your boat is."
Mr Lyle says for powered boats the following rules apply:
A vessel less than seven-metres long and with a maximum speed of seven knots should exhibit an all round white light and show side lights if fitted;
A vessel capable of more than seven knots must exhibit a white masthead light, a white stern light and side lights (although a vessel under 12-metres can combine the masthead lights and stern lights into an all round white light);
A vessel more than 12-metres but less than 50-metres must exhibit a white masthead light, side lights and a stern light. (A vessel less than 12-metres long may also exhibit these lights.)
He says more detailed information about safe boating generally is available from the council's website via: www.nrc.govt.nz/safeboating