Bay of Islands rubbish barge back for summer
16 Dec 2014, 8:30 AM
The popular mobile rubbish barge will be back on the water in the Bay of Islands again this summer and authorities are urging boaties to use it.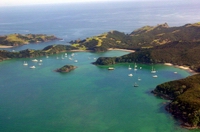 The manned barge is a joint venture between the Northland Regional and Far North District Councils, the Department of Conservation and contractor Waste Management.
It will operate over about a dozen pre-advertised days between Saturday 27 December and the end of January on a weather-dependent basis to allow boaties to drop off rubbish and recyclables.
Those intending to use it are advised to listen to Russell Radio (VHF Channel 63) or visit www.nrc.govt.nz/rubbishbarge for confirmation as to its whereabouts and availability.
Typically, on days when it is available, the barge will visit campsites on Urupukapuka Island from 9.30am-11am before anchoring at its main location at Moturua Island's Army Bay from 11.30am until 2.30pm.
A flat fee of $5 cash per bag of rubbish applies, regardless of whether pre-paid or plain bags are used. Recyclables are also accepted, but a fee also applies and depends on quantity.
Meanwhile, daily shore-based collection facilities (both accessible by water) will also be available at Opua (from Friday 26 December to Friday 30 January) and Rawhiti (from Friday 26 December to Tuesday 10 February). Further details about the shore-based facilities are also available via: www.nrc.govt.nz/rubbishbarge