Public views sought on bus service review, fare increase
22 Aug 2014, 11:08 AM
The community is being asked to help drive a review designed to ensure Whangarei's public bus service meets the city's needs over the next five to 10 years – including a possible 10 percent increase in ticket prices from mid-2016.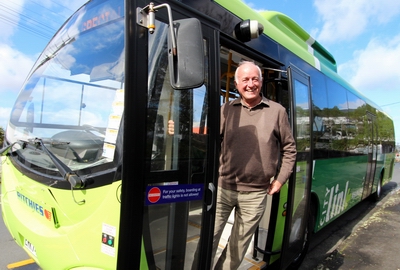 John Bain, chairman of the Northland Regional Council's Regional Transport Committee, aboard a CityLink bus. The regional council is currently seeking community input on a review of the Whangarei public bus service.
"This review of the CityLink Service – which also includes a proposal to increase fares for the first time in eight years – is your chance to tell us what's working well and what could be improved," says Councillor John Bain, who chairs the Northland Regional Council's Regional Transport Committee.
Councillor Bain, one of two councillors who represent the regional council's Whangarei Urban constituency, says some of the changes already being considered as part of the review include;
Splitting the Kamo and Tikipunga runs
Splitting the Raumanga and Morningside runs, which may allow the service to reach Gumdigger Pl and Kioreora Rd
An Okara Park run (suitable bus stop locations will need to be found)
Evening buses during December and January (on Thursday or Friday nights)
Councillor Bain says given fares have not increased since July 2008, a 10 percent fare increase is also being considered in line with transport inflation.
However, if this rise went ahead, the public would have a very long lead-in period as it would be timed to coincide with the scheduled retendering of the CityLink service contract in mid-2016.
"To put that in perspective, if introduced in mid-2016 it would add 30 cents to an adult cash fare, which by then would not have increased at all for eight years. Given that most products, especially fuel, have increased markedly over that time, I'm absolutely delighted that we have been able to hold our proposed increase to such a minimal level."
Meanwhile, he says there are some effective limits to what can be reviewed.
"Our SuperGold card allocation is at its Ministry of Transport imposed limit, so any new trips introduced will not be free to SuperGold Card holders."
Similarly, in order to establish any new trips we may have to remove some existing ones that aren't being well-used.
The review also cannot cover long distance services such as InterCity, Naked Bus and the West Coaster or major public infrastructure such as park and rides.
"Areas not covered by CityLink at present – including requests for new services to new areas will need to be submitted to council during the upcoming Long Term Plan and Regional Land Transport Programme submission process later this year."
Councillor Bain says he's hoping members of the public will take advantage of an informal drop in day at the regional council's Water St offices from 10am to 1pm on Tuesday 09 September to share their opinions about the review.
Alternatively, people can send feedback to the council by Friday 19 September to:
CityLink 2014 Review
Northland Regional Council
Private Bag 9021, Whangarei 0140
Or email: [email protected] subject "CityLink 2014 Review"
He says most of the changes as a result of the public feedback will be introduced on a trial basis from 01 July 2016 and then reviewed after six months.
Councillor Bain says information about the CityLink service generally is available via its website at: www.citylinkwhangarei.co.nz