Controlled Substance Licence training next month
13 Aug 2014, 1:34 PM
The hunt is on for up to 50 responsible senior secondary students and community members keen to receive specialist possum poison training as part of Northland's popular 'Project Possum' initiative next month.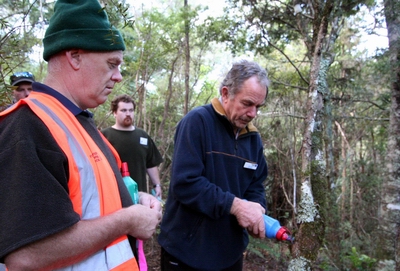 Joe Carr, the Northland Regional Council's Hokianga-Kaikohe constituency representative, applies pre-feed paste to a tree near Kaikohe under the watchful eye of council biosecurity officer Steve Henderson, left, during previous Controlled Substance Licence training in 2012.
About 300, mainly young, Northlanders have gained hands-on knowledge of possum trapping, fur and pelt recovery since 2011 via Project Possum, developed and run in the North under the umbrella of the popular Enviroschools programme, supported by the Northland Regional Council.
Two years ago Project Possum was extended to include separate Controlled Substance Licence training enabling those who are 17 or older (provided they meet certain criteria) to lay possum-killing toxins like cyanide.
The chair of the Northland Regional Council's Environmental Management Committee, Joe Carr, says without a formal Controlled Substance Licence (CSL) qualification, it's illegal to possess, use, store or manufacture the poisons.
Councillor Carr, who represents the council's Hokianga-Kaikohe constituency, says the council is now calling for expressions of interest from those keen to undertake one of two new day-long CSL courses on offer at Trefoil Park near Kaikohe, on Tuesday, September 02 and Thursday September 04.
Councillor Carr, a farmer who has previously trained for his own Controlled Substance Licence, says while it can be a relatively difficult qualification to obtain, it's well worth the effort.
"Applicants must be assessed as a 'fit and proper person' to hold the qualification, must require the substance for their work and be aged at least 17. They also must undertake practical, in-field training, but once they've got this CSL qualification, they're equipped to kill possums in serious numbers and potentially make a good income."
He says in the past, the courses dubbed 'Project Possum – Stage 2' were held over one-and-a-half-days which had included an overnight stay to enable a practical, night-time possum hunt. However, in a bid to better cater to community members with less time, a decision had been made to compress the training into a single day, without the night hunt.
Councillor Carr says the training mixes practical and theoretical work.
Among the raft of issues covered are signage, notifications (for public, private and government land) and Hazardous Substances and New Organisms Act (HSNO) regulations, health and safety, use, storage and disposal techniques.
The training (which costs $360 per person) will be run by Geoff Allinson of Can Train NZ, who has worked with Project Possum in Northland since its inception. He will be supported by Northland Regional Council biosecurity officers.
Councillor Carr says information about 'Project Possum' and the Enviroschools programme generally is available from the regional council's website via: www.nrc.govt.nz/enviroschools
Those interested in the CSL training should contact the Northland Regional Council on (0800) 002 004.