May 01 deadline for comment on NRC's Draft Annual Plan
23 Apr 2014, 8:04 AM
Time is running out to have your say on a Northland Regional Council proposal for a nil average general rates increase and other initiatives outlined in its Draft Annual Plan for 2014/15.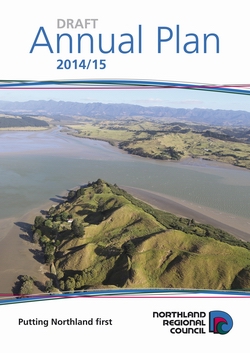 Council chairman Bill Shepherd says better-than-expected investment earnings and a close look at its budget have enabled the council to signal the nil average general rates increase.
He says for a Whangarei district ratepayer whose property has a $225,000 land value the nil increase will mean a total GST-inclusive rates bill of $240.45. A similar ratepayer in the Kaipara district would pay $207.84 in rates for the year and in the Far North $186.57. (All three figures exclude river management rates and the Kaitaia transport rate which are only levied on ratepayers in affected areas.)
Councillor Shepherd says the council is forecasting total operational spending of $29.4 million during the 12 months from 01 July, $14.8M of which (51%) will be spent on resource management, including legally required 10-yearly reviews of its regional plans for air, water and soil and the coast.
Another 16% ($4.7M) will be spent on transport activity, nine percent on river management ($2.7M), nine percent on community representation and engagement ($2.7M), eight percent on economic development ($2.4M), five percent on hazard management ($1.4M) and two percent ($700,000) on support.
"Full details of the work the council is proposing for 2014/15 can be found in our Draft Annual Plan. Copies of the full draft and a 12-page summary are available from all council offices or via the council's website www.nrc.govt.nz/haveyoursay"
Councillor Shepherd says a public submission period of just over a month closes at 3pm on Thursday 01 May.