Visiting Northland waters and marinas?
Northland Regional Council guidance
To protect Northland's marine environment, boat hulls must be free of any marine pests and no more than a slime layer when you travel to and within our region.
There are a number of precautions you can take, such as:
lifting and waterblasting
antifouling
in-water cleaning (If allowed in your region).
For more information on Northland's rules see: Cleaning your boat
Note: at times, arriving boats that have completed this process have still had Mediterranean fanworm and other marine pests remaining in hard-to-reach 'niche' areas (the base of the keel, bow thrusters, intakes/outlets, prop and rudder areas and even live bait tanks). Boat owners are encouraged to double-check these areas before their vessel is returned to the water.
As in previous years, Northland Regional Council will be contracting local divers to carry out extensive random hull checks during the summer months and intends to inspect 2000 visiting and local vessels between October and May. If a vessel you own is found to be carrying marine pests, you must clean the boat at your own expense, and you may also be subject to a $500 fine.
For more information on our marine pest rules, see: Northland Regional Pest and Marine Pathway Management Plan 2017-2027
Northland Voluntary Anti-foul Declaration
Download the Northland Voluntary Anti-foul Declaration form (PDF, 103KB)
If you would like information on our programme, please contact us at [email protected] or freephone 0800 002 004.
---
Marina requirements
Marinas have put measures in place to ensure they protect their structures from marine pests. To visit a marina in Northland, boat owners will need to provide evidence of complying with the 'six or one' requirement: either an antifoul within the previous six months, or a lift-and-wash within one month of leaving an area infected with marine pests.
Receipts of a boatyard lift and wash, or a commercial diver inspection, are accepted as proof.
Check the image below for more details or download the brochure: Hull check brochure – Visiting a Northland marina this summer? (PDF, 305KB)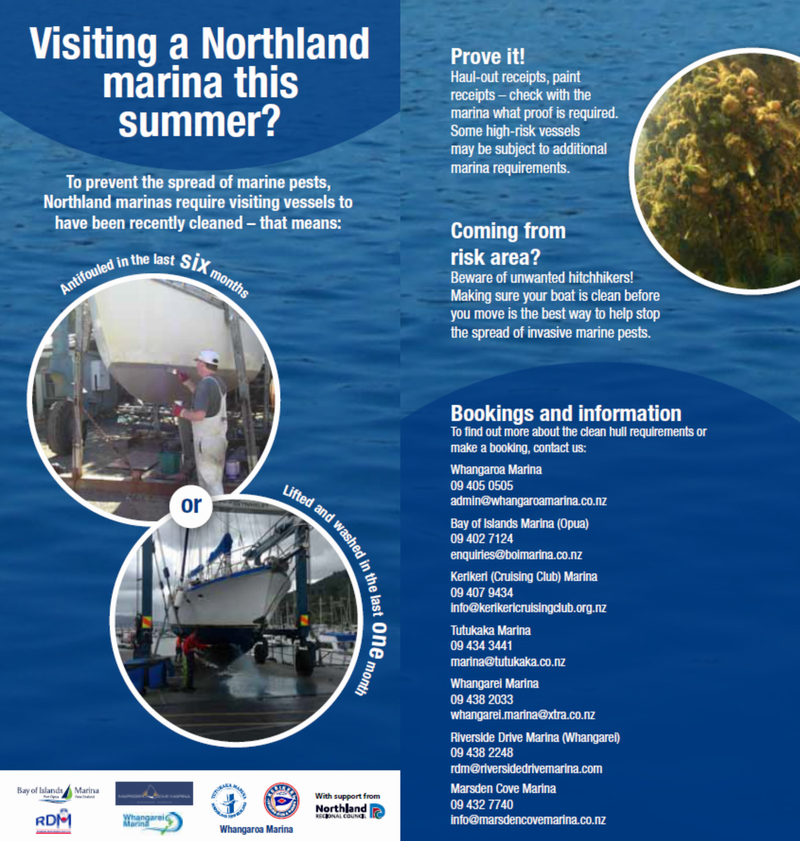 More information
Marinepests.nz is a useful website for navigating inter-regional and regional marine biosecurity rules and marina requirements.
Pest Control Hub - Marine Pests - Find marine pests and clean hull rules for the top of the North Island
To find out more about our programme, contact us at:
E: [email protected]
P: 0800 002 004