Rubbish Barge - Bay of Islands
When and where to find the rubbish barge
The mobile rubbish barge will operate from Wednesday, 29 and Friday, 31 December 2021; then Mondays and Fridays as follows:
| | |
| --- | --- |
| Mondays | Fridays  |
| 03 January | 07 January |
| 10 January | 14 January |
| 17 January | 22 January |
| 24 January | 28 January |
Location and time
Visit Urupukapuka Island campgrounds:
9:00am - 10:00am (appropriate footwear required)
Moored near south-eastern end of Moturua Island:
10:30am - 1:00pm (reduced hours towards end of Jan or if full)
Times are approximate and may vary according to the weather/capacity of the barge. Hours will reduce towards end of January as demand drops-off.
Please do not approach the barge while it's underway.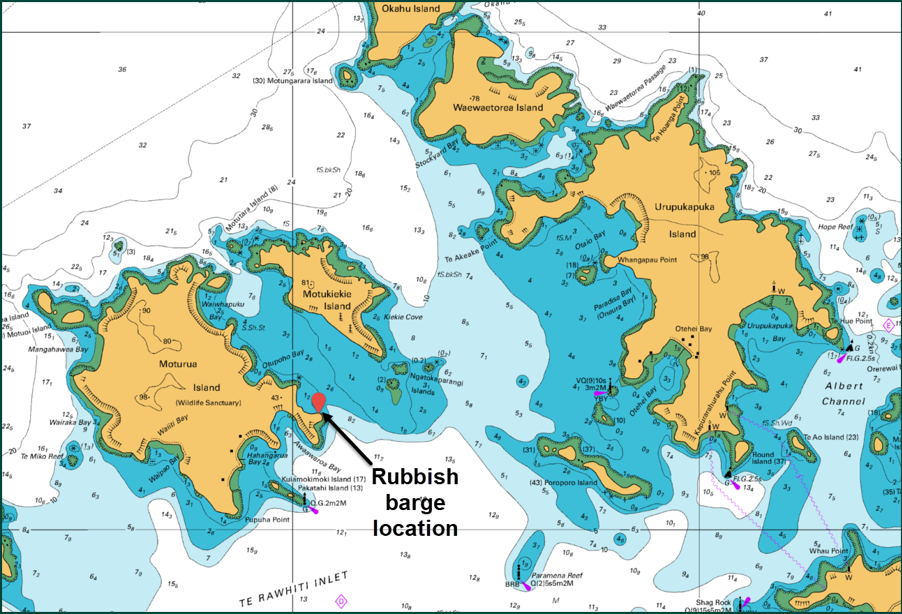 Download and print for easy reference on your boat, the rubbish barge 'when and where' information (PDF, 5.5MB)
Cost (cash only)
$7.00 per bag of rubbish. Charge applies to prepaid and plain bags. Extra large bags will incur a further charge.
$2.00 - $5.00 for recyclables - cost dependent on quantity. Dirty recycling may incur an extra charge.
Shore-based facilities
Ōpua site (by the fuel jetty, Far North Holdings car park):
26 December - 29 January, 7:00am - 6:00pm
Rawhiti (Kaingahoa Camp Ground, Kaingahoa Bay, Rawhiti Road):
Open year round 9:00am - noon until 19 December. From Monday 20 December until Monday February 28, the Rawhiti site will be open daily from 8am – 4pm. Both the Ōpua and Rawhiti sites are closed Christmas Day and New Year's Day.