Get alerts to your smartphone
Alerts to your smartphone
The Northland Civil Defence Emergency Management Group (Northland CDEM) recommends that people take a 'toolbox' approach to alerts and warnings, and make maximum use of the available options.
The Group uses two different platforms to send alerts direct to smartphones: Emergency Mobile Alerts and the Red Cross Hazard app. Both options are free to users (although smartphones need to be of a certain capability to be able to receive them). We recommend that if possible, people take advantage of both (along with other information sources, such as social media -  Civil Defence Northland Facebook page, radio and TV).
The Hazard App can be downloaded from Google Play (for Android phones) or the Apple iTunes/App Stores (for iPhones).
New development
As a result of a new development launched in 2020, Emergency Mobile Alerts can now be replicated to the Hazard app, making them available to users whose phones aren't capable of receiving EMAs, those outside of mobile coverage areas but connected to Wifi, and people monitoring friends, family or property remotely.
For new downloads of the Hazard app, this functionality will be set as 'on' by default. However existing users will need to turn this on manually, and also turn on the notifications for each of the locations they have set up and monitor, as shown below: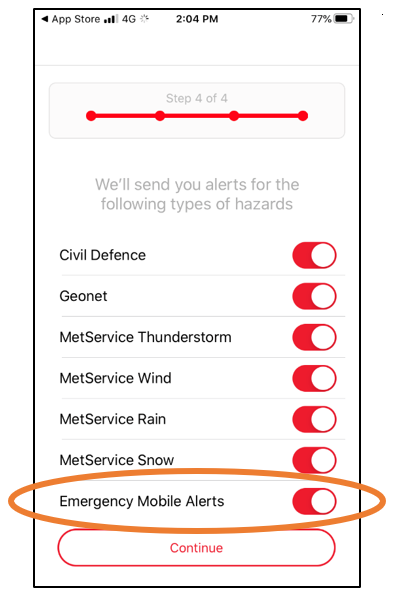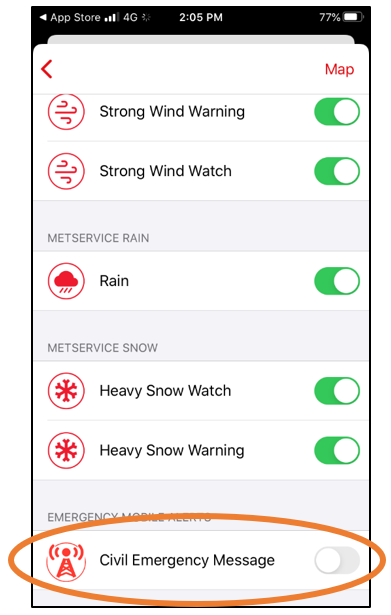 Emergency Mobile Alerts
Emergency Mobile Alerts do not require any downloads but you do need to ensure that your phone is capable and updated - go to getready.govt.nz to check if your phone is capable of receiving Emergency Mobile Alerts.
An overview of the system, FAQs and a list of phones that are capable of receiving Emergency Mobile Alerts are all available on the getready.govt.nz website
Red Cross Hazard App 'how to' information
Modify settings
Learn how to modify the settings on the Hazard App, so you can receive the right alerts for emergencies and disasters. View the instructional video below produced by the New Zealand Red Cross via their YouTube channel.