Whangārei Urban Awa Project
The Whangārei Urban Awa Project is a joint three-year water quality improvement programme from Northland Regional Council and Ministry for the Environment, which aims to improve water quality in the area. One of the most effective ways of doing this is to prevent stock from entering the waterways by fencing, which reduces sediment, bacteria and nutrients. Riparian planting also shades the water and creates habitat for native species.
It's a job that requires a community solution, but we're willing to help support our community to make it happen.
Funding is available to properties in the Kirikiri, Otaika, Raumanga, Waiarohia Streams and Lower Hātea River catchments that:
Are bigger than 1 hectare; and 
Have an unfenced river or stream that livestock have access to.
If we can improve the health and well-being of these catchments the water in them will be healthier – that's good for all of us but also for the life that lives in it. We are in the final year of the project and have so far completed 13.5kms of fencing, and 2841m2 of planting comprising 3256 plants.
Properties within the catchment areas can get an 80% subsidy on the cost of fencing and planting.
Watch the Whangārei Urban Awa fencing video
How does it work?
The entire scheme is part of the Government's COVID response 'Jobs for Nature' programme which means it's about job creation. This means the work must be done by contractors, you can't do it yourself.
Get in touch with us and we'll arrange to have one of the team visit and assess your property.
We make up a project plan with you, then get a contractor quote for the work. When you agree with the quote, you pay 20% up front to us, before the job can start.
Once it's finished, our team will inspect the project and make sure it's been done properly before paying the contractor directly.
Get in touch
Contact Rowan Scott – P: 027 267 4503 | E: [email protected]
Fencing
Fences are typically three-wire electric fences but landowners can 'upsize' these to other fence types like post and batten if they cover the extra cost.
The fencing must be at least 3m out from the top of the stream bank to comply with new government rules. If you're thinking about planting as well, it will need to be further away from the water.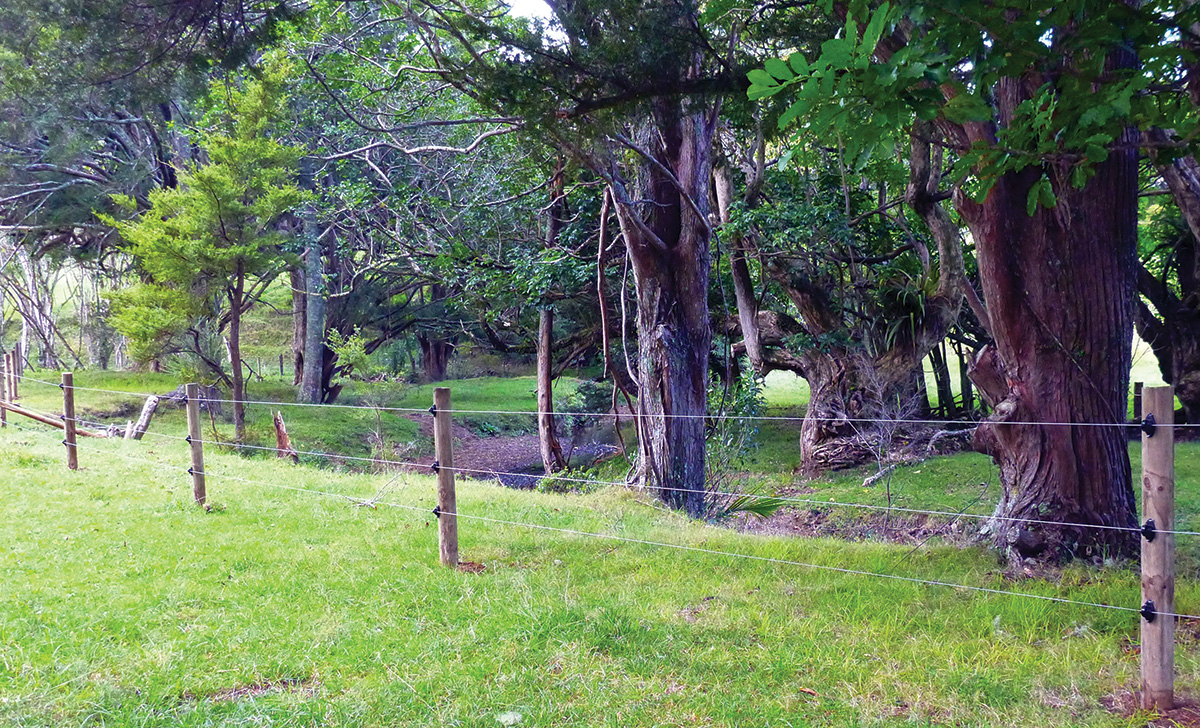 Planting
Planting needs to be native revegetation species. Usually it's a mix of flax, manuka, kanuka, Coprosma species and cabbage trees. You can choose to go for fencing without planting, but not the other way around, unless your property is already fenced with a riparian margin wide enough to allow planting. Check with us if you're not sure.
The planting project costs cover site preparation, purchase and planting of the plants and two release sprays (to stop weeds and grass from smothering your new plants) some months later.
You will need to be prepared to keep up the maintenance of your planting site over the next couple of years – to ensure the plants have the best chance of survival.