Water Quality Enhancement Award Winner 2012
Detailed and careful management of waterways, wetlands and biodiversity have won an environment award for Hancock Forest Management, which manages over 60,000ha of Northland plantation forests.
The judges for the 2012 Balance Farm Environment Awards in Northland were impressed by the planning, consent compliance and attention to detail evident in the Maungatapere and Ngunguru Ford Road forests, especially at the time of harvest.
Such efforts mean there is minimal impact on waterways, wetlands and biodiversity during logging, by working closely with the Northland Regional Council staff members.
All waterways are rated prior to harvest, from low risk to high, all indigenous wetlands are identified, resource consents obtained where required, and compliance with permitted activity performance standards in respect of logging methods, areas to pull across and ongoing monitoring.
Controls over water during logging operation, and through the life of the forest, include hydroseeding, cut offs and swale drains, sediment traps, decanting earth bunds, silt fences, rock-lined water tables, fluming and slash placement.
"There were many examples of this during our visit (to the Maungatapere Forest) and the controls were well-placed and effective," said the judges.
They also said the forest was an outstanding example of land use and land management systems carefully matched to the class of land, and execution of best practice.
Hancocks has an inspiring level of planning, recording, reporting and therefore ability to communicate past, present and future operations to all stakeholders.
All pastoral farmers could learn from Hancocks in this respect, the judges observed.
They also recommended that Hancocks hold regular open days, when locals could be invited into the forests to be shown what happens and why.
"Demonstrate to the public how a well managed forestry resource on land rejected by the pastoral sector contributes to the whole community and the effort you go to mitigate impacts on their environment."
As regards biodiversity, the Maungatapere Forest provided an example of the 443ha site, of which 289ha is planted under pines and the balance of 154ha is in native bush.
Most of that native bush is category two protected by the landowner, Whangarei District Council, and is contiguous with similar vegetation outside the forest.
It consists of totara and kanuka stands with scattered rimu, kahikatea, rewarewa, towai, tawa kauri and puriri.
Some 25ha in under riparian management, category two waterway shade.
Annual possum control and goat control is carried out.
A wetland trial is being conducted in conjunction with Northland Regional Council, with positive results regarding harvesting and log extraction and wetland restoration.
Judges comments
Robust production management systems and outstanding estate knowledge from the staff.
Excellent records of the growing forest resources and the harvest outcomes.
Very high management systems, matching best practice to variable land conditions.
All fertiliser applications calibrated and GPS tracked.
A good knowledge of all forest health aspects within the staff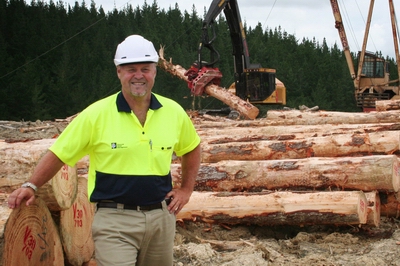 Hancock Forestry Management (NZ) Ltd, winners of the Northland Regional Council Water Quality Enhancement Award 2012.