Feedback on our Annual Plan 2020/21 closed Friday, 29 April 2022.
For you information, our consultation document and supporting information are still available for you to view.
Read the consultation document
Our Long Term Plan 2021-2031 (LTP) is the roadmap that guides how we support Northland's growth and wellbeing for the next 10 years, while navigating the unpredictable world we live in. Every year we check in on that plan, and identify any budget changes we think are needed – this creates an Annual Plan.
There's heaps of amazing mahi underway across the region, especially around water health, biosecurity and climate change. But as we've learned in the past couple of years, things can change quickly – and if we don't adapt, we might struggle to provide Northlanders with the services they need and deserve.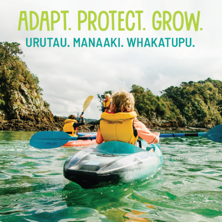 This is our consultation document
Read a summary of the proposed changes in our consultation document, or read about it in more detail in our Supporting Information document below.
Other useful information
Supporting Information document (PDF, 2.6MB)
Draft user fees and charges (PDF, 3.2MB)