Covid-19 recovery package
Government funding announced as part of the Covid-19 recovery response package will kickstart or accelerate a range of projects in Northland.
The region has been allocated more than $500 million from the Provincial Growth Fund and $200 million from the Covid Response and Recovery Fund to advance initiatives that will generate employment in Northland.
The approved works favour environmental projects put forward by the region's four councils – Northland Regional Council and the Kaipara, Whangarei and Far North District Councils – on behalf of the people of Northland.
These work programmes will create a range of short- and long-term jobs within the region and align with our mission to work with you to create a healthy environment, strong economy and resilient communities.
Some of these initiatives have already started, some are planned but haven't begun, and others are in the early planning stages. Generally, the projects that are already advanced and awaiting funding are those that have benefited most from the Government's support.
Planned works bringing together large groups of people and benefiting whole communities are among the most successful. The stand-out in this regard is the Kaipara Moana Remediation programme, championed by uri (descendants) affiliated to Kaipara Moana.
Four of Northland's project profiles are below, and we'll be adding to these as new developments take place.
Whangārei urban waterways
This new project to improve freshwater quality in Whangārei's urban waterways has received a $524,000 funding boost, timed just as an existing project to improve water quality in the upper Hātea River catchment comes to an end.
The project is funded through the Jobs for Nature fund.
The money will be used for stock exclusion, riparian fencing and planting on private property in the lower Hātea River catchment downstream of the iconic Otuihau Whangārei Falls and along other key waterways in Whangārei including the Raumanga and Waiarohia streams.
This work builds on projects that have been happening in the upper Hātea River catchment during the last three years.
Read the '$524k boost for Whangārei urban waterways' media release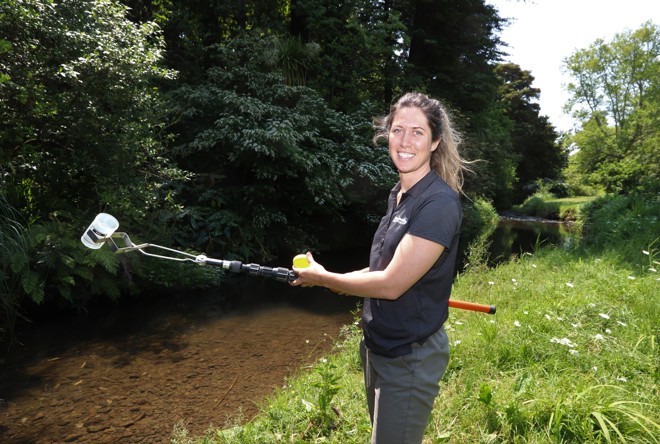 Fresh water quality sampling.
Climate resilience
A comprehensive programme of flood protection work is in progress in the Awanui, Panguru and Otiria-Moerewa catchments.
We are in the third year of an accelerated five-year, $15 million flood risk reduction programme. This will provide a higher level of flood protection for Kaitaia township and its surrounding communities.

A second project, to reduce flooding of West Coast Road at Panguru, was completed in November 2021. This was a two-pronged effort that involved lifting the road, and benching and widening the river to lower the flood level.
The third project, to reduce flooding to Otiria and Moerewa, is underway. This project is designed to restore the natural flood flow of the Otiria and Waiharakeke rivers, which have been blocked by roads and railroad corridors that direct the flood flow towards the towns.
These three initiatives have received $12.5 million from the Government's fund for infrastructure projects.
This funding has accelerated the Awanui catchment works, enabling the project to be completed in two years instead of the remaining six years and lessening the burden on ratepayers.

New works include: stopbank toe stabilisation, stopbank benching (widening) to increase flood flow capacity, flood walls (where there is no room to set back stopbanks), and high-level spillways to reduce flood flows from high-risk areas.

Developing flood protection infrastructure and various river works are a priority for the council to build community resilience to flood risk.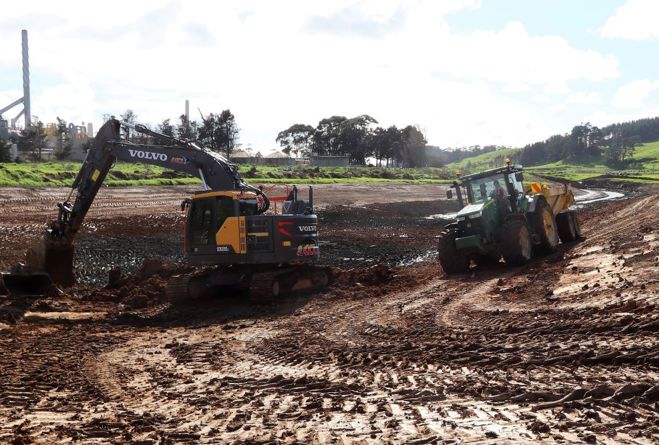 Earthworks for Stage II of the Awanui flood scheme.