Covid-19 Recovery Package
Government funding announced as part of the Covid-19 recovery response package will kickstart or accelerate a range of projects in Northland.
The region has been allocated more than $500 million from the Provincial Growth Fund and $200 million from the Covid Response and Recovery Fund to advance initiatives that will generate employment in Northland.
The approved works favour environmental projects put forward by the region's four councils – Northland Regional Council and the Kaipara, Whangarei and Far North District Councils - on behalf of the people of Northland.
These work programmes will create a range of short and long-term jobs within the region and align with our mission to work with you to create a healthy environment, strong economy and resilient communities.
Some of these initiatives have already started, some are planned but haven't begun, and others are in the early planning stages. Generally, the projects that are already advanced and awaiting funding are those that have benefited most from the Government's support.
Planned works bringing together large groups of people and benefiting whole communities are among the most successful. The stand-out in this regard is the Kaipara Moana Remediation programme championed by the Uri (descendants) affiliated to Kaipara Moana.
Four of Northland's project profiles are below, and we'll be adding to these as new developments take place.
Kaipara Moana Remediation programme
This $300 million 10-year programme, supported by the region's four councils and Auckland Council, has received $100 million in Crown funding for the first six years.
The programme is funded through the Jobs for Nature fund.
The significant cross-regional programme aims to help restore water quality in Kaipara Moana by halving the amount of sediment loss from the land to the sea.
The business case that clinched the funding was developed in partnership with Kaipara Uri (Te Uri o Hau, Te Roroa, Ngā Maunga Whakahī o Kaipara, Ngāti Whātua Ōrākei and Te Rūnanga o Ngāti Whātua), Auckland Council and Kaipara and Whangarei District Councils. Auckland Council and Northland Regional Council will consult on co-funding the programme through their respective Long-Term Plan processes.
The Kaipara Harbour is the largest harbour in New Zealand and is the receiving environment for a catchment of around 6000km2. It is known as an important fish (especially snapper) spawning ground, is a migratory bird habitat of international significance, and the harbour mouth is used by the critically endangered Māui dolphin
A co-governance committee will be established to provide oversight of this exciting project that has the potential to make a significant difference to the health and mauri of the Kaipara Moana.
Read the 'Kaipara Uri, councils welcome government funding' joint media release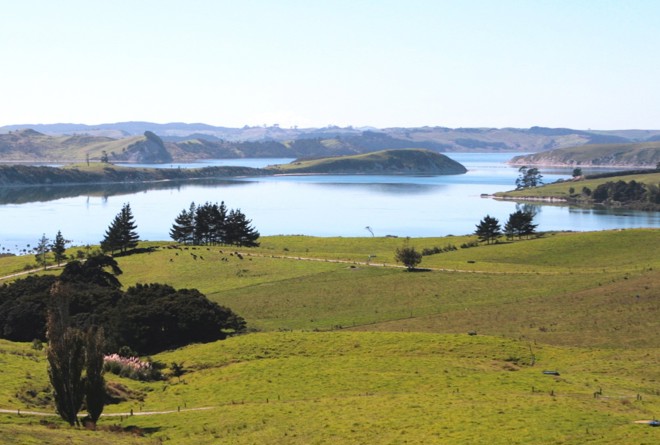 Kaipara Harbour.
Whangārei urban waterways
This new project to improve freshwater quality in Whangārei's urban waterways has received a $524,000 funding boost, timed just as an existing project to improve water quality in the upper Hātea River catchment comes to an end.
The project is funded through the Jobs for Nature fund.
The money will be used for stock exclusion, riparian fencing and planting on private property in the lower Hātea River catchment downstream of the iconic Otuihau Whangārei Falls and along other key waterways in Whangārei including the Raumanga and Waiarohia streams.
This work builds on projects that have been happening in the upper Hātea River catchment during the last three years.
Read the '$524k boost for Whangārei urban waterways' media release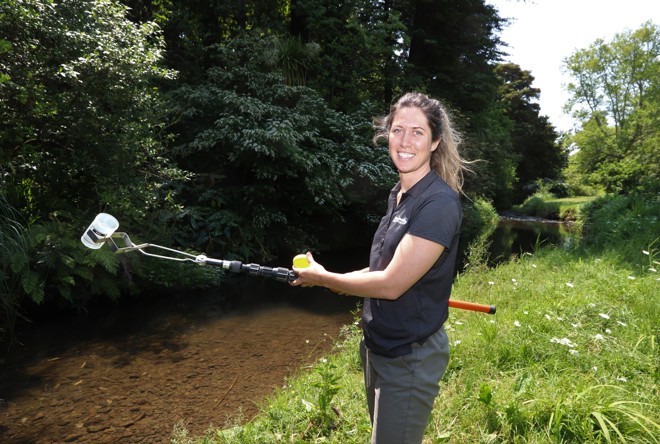 Fresh water quality sampling.
Wilding pine removal
Crown funding for wilding pine removal is benefiting some of Northland's precious and unique dune lakes, while at the same time generating work and training opportunities for Northland forestry workers affected by Covid-19 job losses.
Taharoa Domain (Kai Iwi Lakes) near Dargaville is the pilot site for the National Wilding Conifer Control programme and Lake Ngatu on the Aupouri Peninsula north-west of Kaitaia is now among the key locations to benefit from the Government's worker redeployment package.
Wilding pines dominate the landscape, have a destructive impact on biodiversity and are a safety risk, overhanging tracks and recreational areas where people congregate.
They block out light, suck up water and food needed by native plants and animals. Wilding pines also add unwanted nutrients to lakes by dropping quantities of needles, branches and pollen into the water. They colonise roadsides, posing a risk to infrastructure.
Wilding pine removal is now underway in our region, protecting our natural environments and creating employment for our people. 
Read the 'Wilding pine removal boosts Lake Ngatu' media release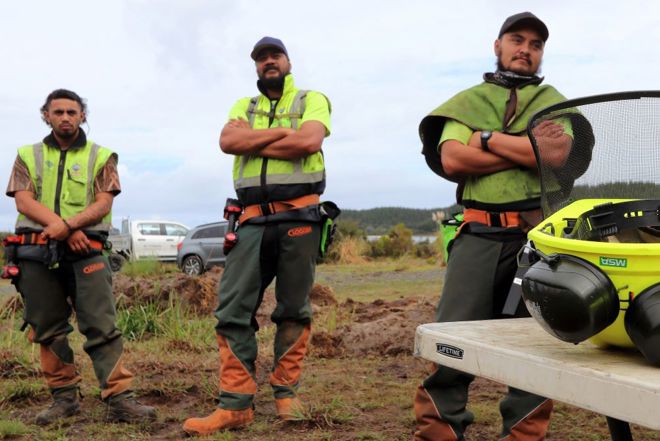 Wilding pine removal contractors at Kai Iwi Lakes.
Climate resilience
A comprehensive programme of flood protection work is in progress in the Awanui catchment where we are in the second year of an eight-year $15 million flood risk reduction programme to provide a higher level of flood protection for Kaitaia township and its surrounding communities.

A second project to reduce flooding of West Coast Road at Panguru is also underway. This is a two-pronged effort that involves lifting the road and benching and widening the river to lower the flood level.
These two initiatives have received $12.5million from the Government's fund for infrastructure projects.
This funding will accelerate the Awanui catchment works, enabling the project to be completed in three years instead of the remaining six years and lessening the burden on ratepayers.

New works include, stopbank toe stabilisation, stopbank benching (widening) to increase flood flow capacity, flood walls (where there is no room to set back stopbanks) and high-level spillways to reduce flood flows from high risk areas.

The development of flood protection infrastructure and various river works are a priority for the council in terms of building community resilience to flood risk.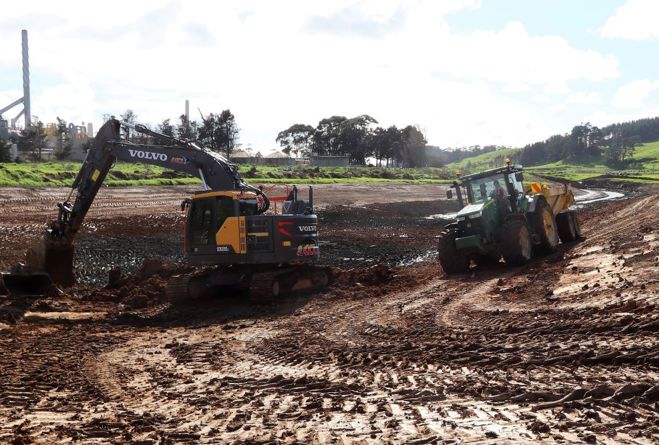 Earthworks for Stage II of the Awanui flood scheme.