Koi fish pest eradication in Pahi
20 May 2020, 12:30 PM
The excellent work in pest eradication continues in Northland. Back in March, a koi carp removal operation was conducted at an isolated farm dam following a report by the landowner.
Koi Carp might look like giant goldfish but they're a serious threat to our freshwater lakes and rivers. They are bottom feeders and will eat anything available and stir up sediment as they go, destroying habitat and decreasing water quality – so it's critical we keep them out.
While the dam in Pahi is man-made and doesn't contain a lot of vegetation or native fish species, there is a risk that in times of flood, the pest fish or their eggs can spread to other water catchments. So, it's essential to monitor and remove any koi found there.
Four Northland Regional Council staff and three contractors from NZ Waterways Restoration conducted the work.
"We assumed the koi were not breeding much there, but when we arrived on-site, we saw some small fish jumping out of the water," says Freshwater Pests Biosecurity Officer Brooke Hartigan. 
"The jumping is unusual behaviour, but we managed to net the fish and confirm they were indeed juvenile koi."
Over four days, they managed to remove 84 fish from the dam – the total weight of them being 82.2kg! The largest koi they found and removed was a female weighing 4.25kg (9.4lb).
Eradication of koi is vital to the ecological balance of our freshwater catchments and to protect our native plants and fish species. So, it was a successful cull at the dam in Pahi.
"In August we'll return to the dam to remove more koi just before the breeding season," Brooke says.
"It's so important to make sure we reduce the chance of another successful breeding event occurring."
Great work by Biosecurity!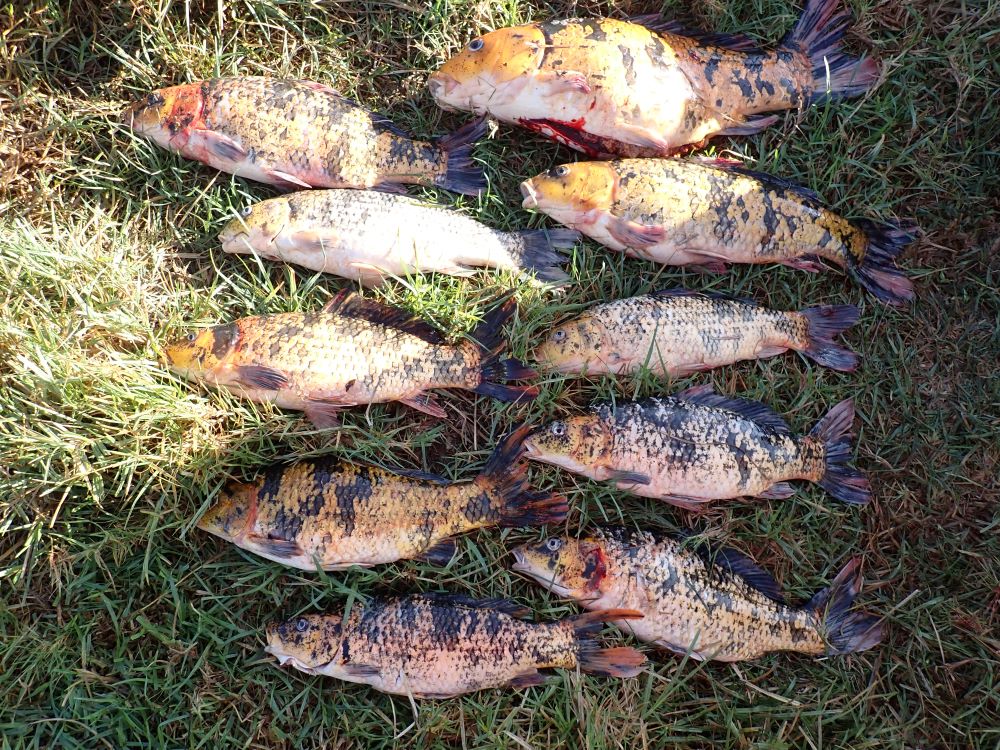 Some of the larger koi removed from the dam.