Fish, plants and chairs - Life at Water Street
12 May 2020, 11:00 AM

Space in the carpark for crane work. 
Dean Alderton, our Building Facilities Specialist, has been working from a very quiet Water Street since 24 April. His working situation has been different from a lot of us working from home, but he's coping! "I'm doing well despite the empty office! I chose that date to be at Water Street in preparation for having five different lots of contractors starting on-site for level three."

Before that, Dean was only going into the office on a part-time basis during level four. Getting used to only having interactions with people digitally, meant he was grateful when he finally had a face-to-face interaction (from a safe distance), "I was excited about coming into the office – just to see actual people!" he says.

We're all learning together as we go through this uncharted territory and the best-laid plans still sometimes have gaps. One of the funniest things Dean noted is the number of people who took two to three weeks to realise that their work chair would've been handy in their home office. "While it was an easy part of my job, I've had a long list of people who wanted their chairs."

Dean has been the one leaving chairs for collection in the lift foyer, and while it may seem small, he knows it has made a big difference in helping people settle into this new way of working.

Some other activity Dean mentioned is the reroofing that has carried on at Water Street. Currently, the tops of the concrete pillars are getting cut off to prevent leaks around the joints in the flashing. Next will be the demolition material, and the old wooden air conditioning platform getting craned off the roof to allow the replacement of the long-run iron.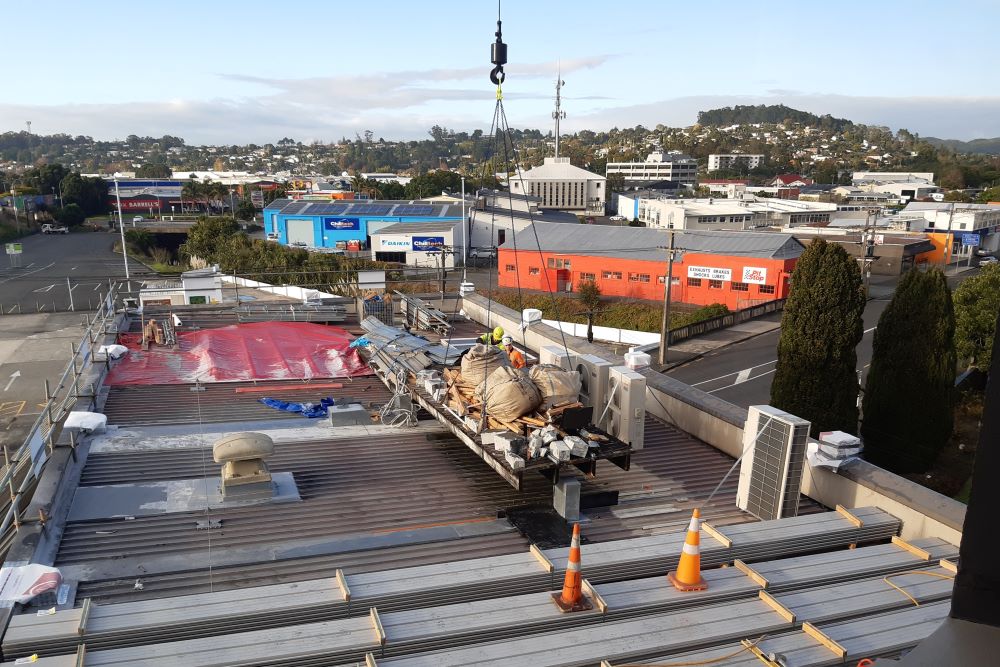 Crane on the rooftop ready for long-run iron.Dean has also been doing the cafeteria provision and level two cleaning for Civil Defence. He also mentioned that the renovations at the new Kaitaia offices are back underway and should be finished mid-June.

He also took over feeding the three lots of fish in the office and watering plants! "The fish are fine; you'll be glad to know. Unfortunately, I may have missed some of the plants I tried my best, I promise!"

At home, Dean has kept moving with long walks and staying connected with his church community at the weekends. But nothing compared to extending his bubble in level three. Last Sunday Dean got to visit two of his daughters and his two-year-old grandson for the first time in seven weeks, and he couldn't have been happier about it.

Ka pai Dean, we all appreciate the hard work you've been doing, as well as keeping our pets and plants fed, and of course, for our chairs, it was all about the chairs!