Celebrating the success of artist, Justin Murfitt, our strategic policy specialist
20 Mar 2020, 3:58 PM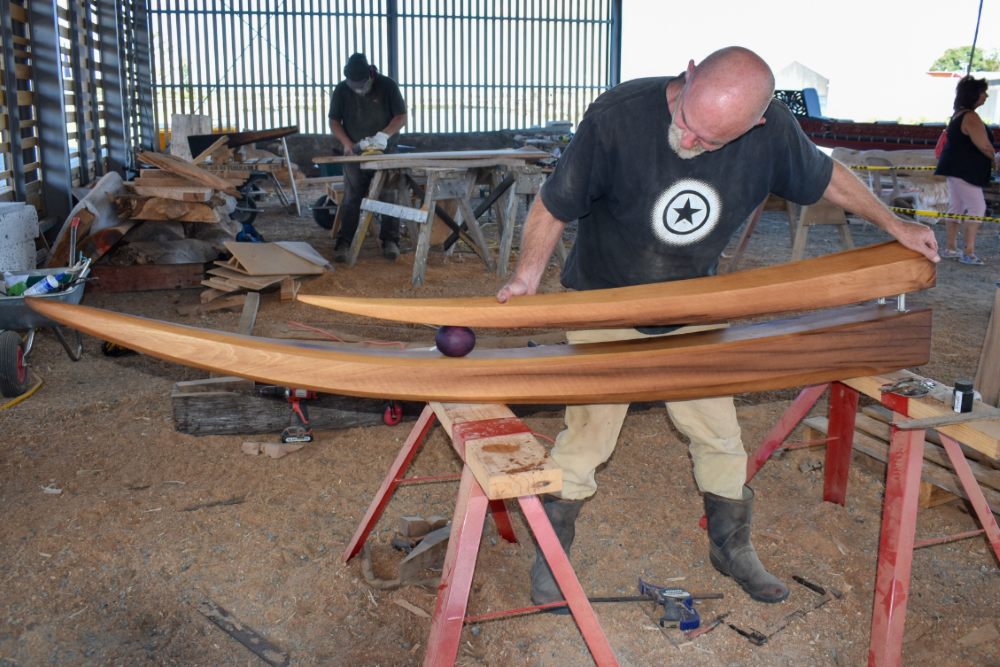 "The Gift" coming together.
Simplicity is the genesis of the sleek lines of Justin Murfitt's creations in wood.
His simple ideas lead to simple forms that are increasingly becoming a part of Whangarei's landscape.
His newest creation, "The Gift", inspired by a Huia carrying a seed in its graceful beak, has just won him second place in the sixth Whangārei Sculpture Symposium, a Creative Northland event.
The recognition is welcome, but it's the fact that the soaring sculpture in smooth wood pinned to a stained plinth, has been bought and gifted to the city by the Whangārei District Council that give him his real reward.
The beautifully finished 2.7m high creation is an impressive piece of art and it will remain at Hihiaua peninsula where it was created in a 10-day day marathon involving 20 artists who work in wood and stone.
It joins other distinctive examples of Justin's work – he co-designed the sails at the entrance to Whangārei and his "seagull seats" are both an artistic and practical addition to The Loop walkway.
Justin, the regional council's strategic policy specialist, has been creating sculptures for about 16 years. Trained as a joiner/cabinetmaker, he started with furniture design and then "moved into more arty things".
"I start with an idea and then look around for the right piece of wood," he says. "I chose the Huia beak for its graceful form and because it fitted so well with the symposium's theme of 'regeneration'. The seed is part of this idea – birds distribute them, and they then become part of our native forests."
Next came the wood – Balau, tropical hardwood from an old railway bridge beam he inherited from a friend who left New Zealand to pursue his interest in wood sculpture and couldn't take it with him.
"The timber is incredibly durable," Justin says. "It had probably been in a railway bridge for 80 to 100 years so it's been outside for a very long time. I had to split it with wedges because it was too big and hard for my chainsaw.
"It was quite tricky," he says, understating the risks which included that the timber could have shattered completely.
Justin says he's always thinking, always looking, always hunting for the right piece of wood for his latest inspiration. "I doodle a lot when I'm on the phone at work – in fact, a lot of the things I've made have come out of my head while I'm talking. It's a subconscious thing – it just happens."
Almost anything can inspire – one of his pieces a 'teardrop' form arose from his observation of a single drop of water which hung, suspended, caught by a gust of wind.
Justin loves Northland's timbers – "it's perfect for wood workers and wood turners" and he's an advocate for the Hihiaua Cultural Centre evolving in a former boatshed on the peninsula.
"It's an awesome asset for Whangārei and it's fantastic that local government has identified it as one of the top four growth priorities for our city," he says. "The more it gets support and the more people that go there, the better. We've needed something like this in Northland for a very long time."
Justin saw a huia beak in this very old hunk of hardwood.



'Huia' carries a seed in its soaring, graceful beak.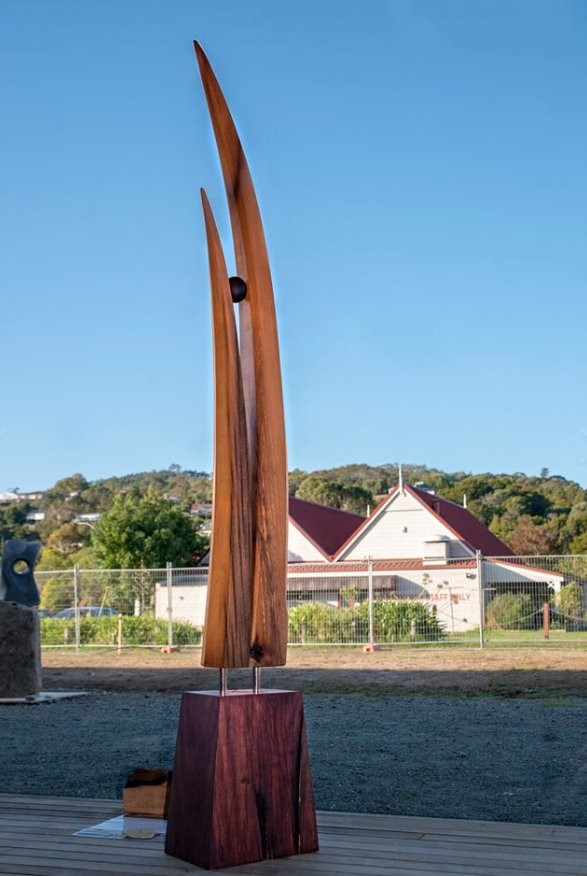 A single, suspended drop of water was the inspiration for this teardrop form.