LittaTraps installed at Water Street
1 Jul 2020, 12:35 PM
As part of council's sustainability drive, we've installed LittaTraps in the stormwater grates at our office in Whangārei.  Two of the traps were installed in the public carpark at the front of the building and another two in the rear carpark of the building.  The traps will be audited every six months so we can determine how much litter we have stopped flushing out to the ocean.
A big thank you to Phil Heatley, our Strategic Projects Manager for helping to make this happen!
Making a difference
A recent study on Waiheke Island indicated that each LittaTrap installed stopped as much as 700 pieces of litter flowing into the coast each year.  A LittaTrap outside a supermarket caught a total of 312 pieces of rubbish over six months.  Another study was done on a LittaTrap in an urban area of Auckland – it was emptied three times over 11 months and in the 10kg of debris recovered, it was estimated that there were over 2000 cigarette butts captured and retained!
A landmark United Nations report has identified plastic pollution as one of the major health risks to the world. On average eight million tonnes of plastic end up in the sea annually, with the obvious ecological impact on sea life being entangled in them or ingesting them.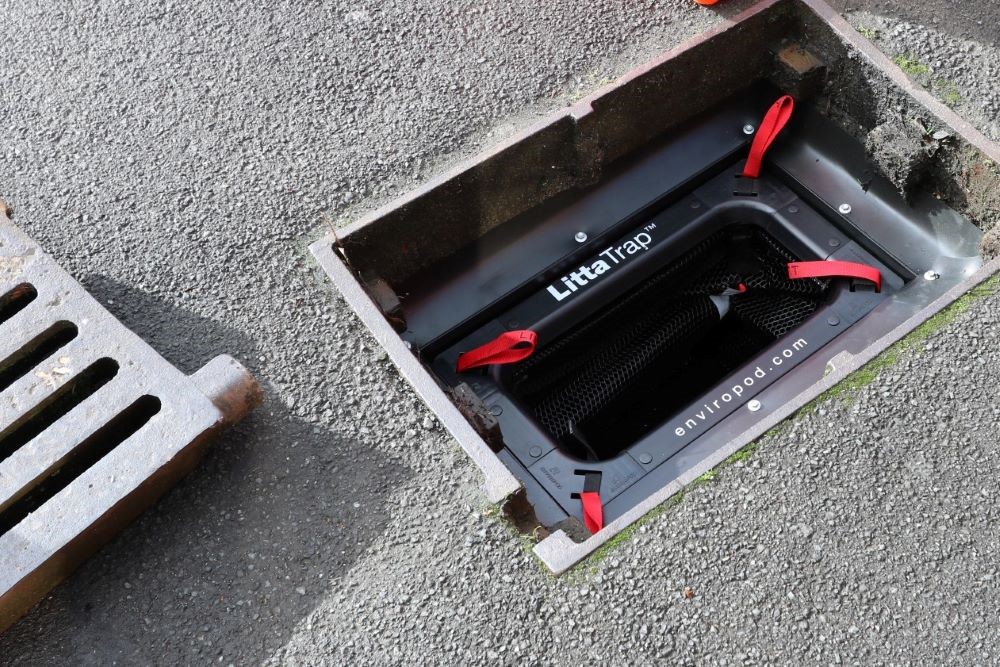 One of the LittaTraps installed in the Water Street carpark
What is a LittaTrap™?
The Enviropod LittaTrap™ is an innovative technology that will help to reduce the amount of litter reaching our oceans and waterways.  Designed to be easily retrofitted into new and existing stormwater drains, the LittaTrap captures plastic and rubbish before they enter the drainage system.
How does it work?
When stormwater enters a stormwater grate, the water passes through the LittaTrap filter bag, and anything bigger than the holes in the filter bag (5mm) is captured, stopping it from getting into the stormwater system and out to the harbour.  When the bag is full, it can be simply lifted out and tipped into either recycling or landfill.
It's clear to see that by installing the LittaTraps, we'll make a big difference to any rubbish we might be flushing into our stormwater drains.
A fantastic example of embracing new technology for continued sustainability!