My first day – in the middle of a pandemic
2 Apr 2020, 11:33 AM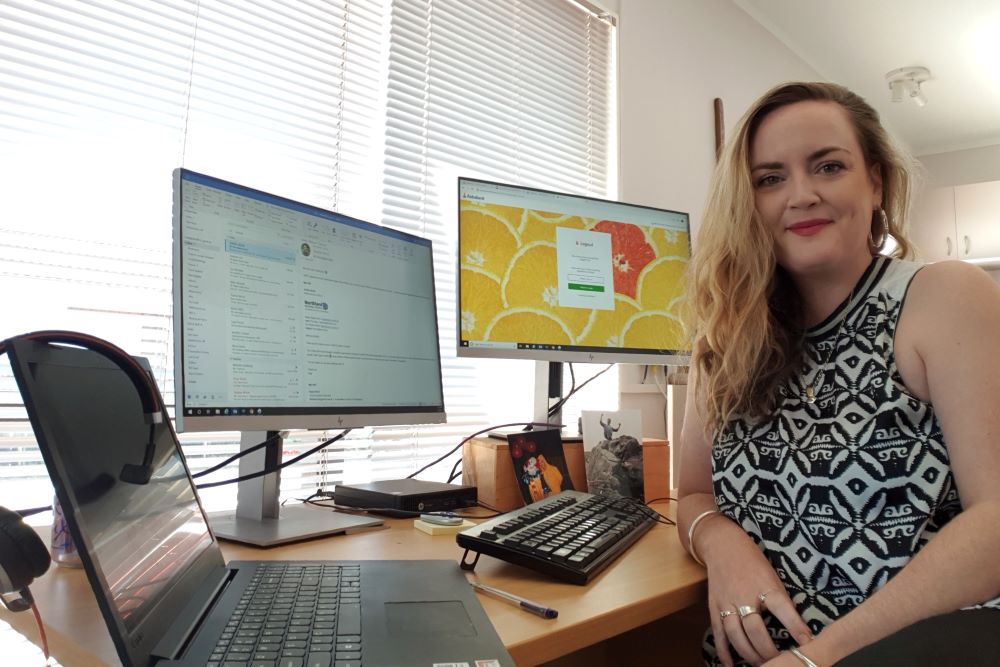 Communications Specialist Angela Nicol, getting to grips with a new job and working from home.
Starting a new job is nerve wracking at the best of times. Everything is new; from the commute to finding a car park, meeting new people and seeing your new work station for the very first time. Now imagine doing this very thing in the middle of a pandemic. This is exactly what happened to me on 23 March, a day I'm not likely to forget any time soon. And now that we're doing everything digitally, I would like to introduce myself, hi, I'm Angela Nicol the new Communications Specialist with the Communications team.
Not only was I starting a new job, but I had fled the big smoke only the week before. While I have been staying in Whangārei most weekends for the past year, I'm still a newbie to the area. I was looking forward to exploring, meeting new people and deciding which gym to join! I had been so busy moving that I'm not sure I realised the seriousness of the situation.
I entered the council building on that Monday both nervous and excited. My welcome by both Paula at reception and Tamara was warm and open, so I was immediately put at ease. But I couldn't shake anyone's hand. That's when it started to dawn on me that this first day was going to be like no other. I had a tour of the building whilst trying to maintain social distance, morning tea with two metres between each of us and on my desk I realised the little bottle with my name on it was hand sanitiser.
I was very conscious that while it was strange for me, it was also hard for everyone else. Here was a newbie to induct into the organisation while teams all over the building were in limbo. I did my best to be efficient in filling out forms, asking questions while making sure I wasn't too much in the way.
Then came the announcement at lunchtime. The whole country was going into Level 4 lockdown and along with everyone else I was taking my computer home to set up a remote office. Having only briefly met my team, I was dizzy with how this was all going to work. But I knew I was up for the challenge. So I packed my equipment into my car and headed home only six hours into my new job.
I am settling in just fine. We quickly set up video conferencing and my team have been amazing. Tamara and Cathy are fielding my 'newbie' questions and giving me direction. Ali is giving us all a laugh while she navigates her technology and Matt checks in most days and explains how all the pieces fit together.
And, I would like to thank everyone who apologised to me in the corridors for the chaos on my first day (while we maintained our distance). It couldn't be helped but I appreciated every single acknowledgement.
We're over a week into our remote working and I don't know any different. I haven't experienced the buzz of the office yet – I don't even really know my way around it! Hopefully, I won't get too used to the way things are because I'm really looking forward to the day I can come in, shake everyone's hand and finally be able to see everyone in the flesh.
Let's hope that day isn't too far away.