NRC step up their game
17 Oct 2019, 9:21 AM
Last month, staff from across NRC signed up to take part in Sport Northland's "Steptember Challenge". The idea behind the challenge is to get people moving, with the aim of getting 10,000 steps in a day. It's an inter-organisation team challenge so you've got people to support you, as well as a healthy dose of competition to push you into action.
Eight NRC teams, made up of 31 staff, featured in this year's line-up – making us second only to Kensington Hospital in terms of participant numbers.  Collectively we clocked up just shy of 10 million steps through the month (9,634,451 to be precise)!
What did hitting the target mean for the teams? For some it was about walking to pick the kids up from daycare instead of driving, for others it was lunchtime walks, parking further away, or walking the loop a couple of times a week.
It wasn't always easy, trying to juggle kids, work and other commitments or push yourself to make the effort at the weekend. "The hardest thing initially was finding the time to get my steps up, but I soon realised I needed to 'make' the time" says Jalissa Karena-Lange.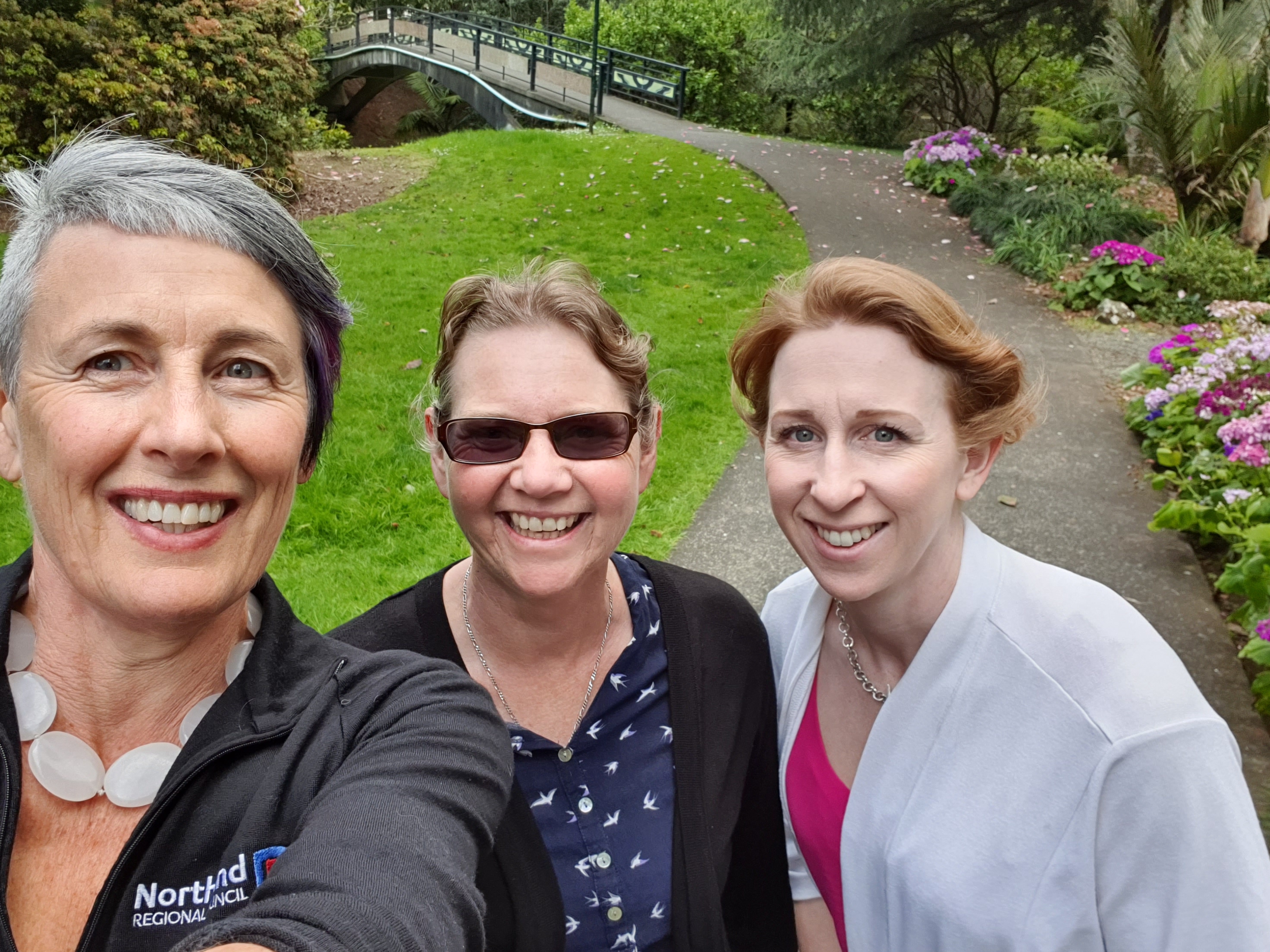 The sense of achievement was one motivating factor. "Counting up my steps at the end of the week!! Feeling fitter, healthier and losing a couple of extra kilos" were some of the best parts for Vivienne Lepper.
Others talked about how they didn't want to let their team down, with more than one challenger pacing the streets after dark trying to get their steps up and meet the 10,000 target!
For Kylie Pedersen, "it really highlighted how inactive I am on office days. I had to make up a lot of steps one Sunday, so I walked around McLeod's Bay and saw a massive pod of dolphins jumping and playing all the way across the bay!
Brooke and Susan from Team "Step Up NRC" enjoy a lunchtime walk on the Shared Path.
As well as getting moving, the challenge brought other benefits. For Sue Brookes, "the highlight was taking time out to walk with colleagues. It was great to get to spend time with them, and good for me to commit to time away from the desk, getting some fresh air.
Team camaraderie was a recurring theme across the teams, and since many teams were made up people from different areas of council, it was a great way of getting to know people better, build relationships and support and motivate one another.
The challenge made you that much more aware of how much, or little you are moving. Pip Dickson reflects, "If I was unhappy with my steps for the day, I made the kids get on their scooters and come for a walk with me on the shared path in Kensington."
It's the little things that can make a big difference when it comes to getting moving, and the challenge has demonstrated that it can change the way you do things. "I don't worry about getting the closest parking space to work anymore" says Jalissa – "I used to park on First Ave, now I'm on Second. Ha!"
It can be easy to fall back into old habits once the pressure if off, so the next challenge is to continue to motivate one another and make those lunchtime walks a regular feature in your calendar.
For Kylie at least, the challenge will continue – she's signed up to do a 6km run off the back of Steptember, so we wish you the best of luck with that! There's definitely a shared sense that we've started something, and we need to keep up momentum. Watch this space for the next wellbeing challenge… 😊
Final results
| | | |
| --- | --- | --- |
| Overall Ranking | Team Name | Total Steps |
| 11 | Red Hot Chilli Steppers | 1439891 |
| 16 | Happy Feet | 1338660 |
| 22 | Pirates and Princesses | 1280509 |
| 24 | NCEA Achieved | 1246889 |
| 26 | Pesty Pirates | 1193289 |
| 30 | Pete's Angels | 1146256 |
| 35 | Step Up NRC | 1096685 |
| 44 | Time for Beers | 892272 |