Marine parks and reserves
Northland has several marine parks and reserves which are great for activities like boating, snorkelling, scuba diving and kayaking. You can help protect these special places – and avoid a hefty penalty – by following the rules when you're there.
Where are they?
There are three marine reserves in Northland (one at the Poor Knights and two in Whangārei Harbour), plus a marine park at Mimiwhangata.
Several islands are nature reserves (on which it's illegal to land) – these are the Poor Knights, Hen and Chickens and Bream Islands.
Marine parks and reserves are administered by the Department of Conservation.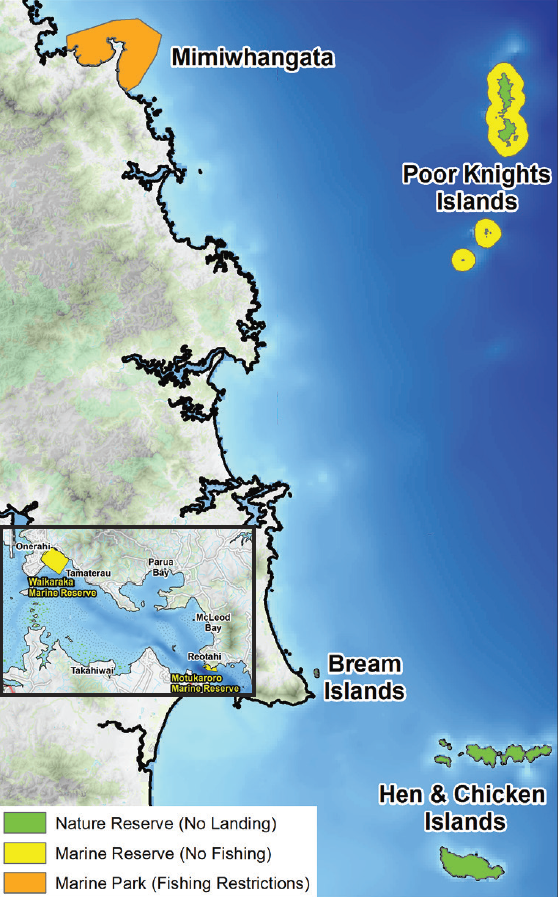 Inset map
Marine reserve rules
Marine life is totally protected in these reserves – this means:
No fishing of any kind
No taking or disturbing any marine life (including shellfish, seaweeds and sea urchin)
No taking any part of the seafloor, including rocks and shells, or erecting any structure
No feeding the fish (it disturbs their natural behaviour).
Nature reserve rules
Our nature reserve islands are a stronghold for many native species now gone from the mainland.
It is illegal to land on a nature reserve – running fishing lines to the shore or being on the beach below high water are all considered 'landing'.
Marine park rules
As well as normal regulations, special rules apply in this marine park to help protect its reef-dwelling fish and shellfish.
No commercial fishing of any kind
No nets or long-lines – recreational fishers may use only un-weighted, single-hooked lines, trolling, spearing or hand-picking
Only the following finfish and shellfish can be taken (normal rules apply): barracuda, blue maomao, green-lipped mussel, grey mullet, gurnard, kahawai, kina (common), kingfish, mackerel, piper (garfish), rock lobster, scallops, shark, snapper, sole, trevally, tuatua, tuna and yellow-eyed mullet
Potting for rock lobsters is allowed providing that only one pot per person, party or boat is used.
Offences under the Marine Reserves Act 1971 have penalties of up to three months' imprisonment and/or a $10,000 fine. You may also have your vessel, fishing or dive equipment seized by a warranted enforcement officer. To report offences phone 0800 DOC HOT (0800 362 468).