Why do I need to register my jet ski?
Council bylaws require that all jet skis used in Northland are registered.
How do I register my jet ski?
Jet skis and personal watercraft are now registered online through the Auckland Transport's website. 
For more information and to register your jet ski,  visit the jet skis and personal watercraft page on Auckland Transport's website.
What if I use my jet ski in other regions of New Zealand?
All jet skis are required to be registered in a number of regions. Auckland is the closest region to Northland where you can register, you can do this online.
Registration is a one -off activity and is for the lifetime of the machine. It costs $55.50 (including GST) and can be done by going to the Auckland Transport website.
Registration also has the benefit of your jet ski being able to be tracked in the event it is stolen. Making it difficult to on-sell
How do the authorities know if my jet ski is registered?
Registration stickers are like the number plate on your car. They must be clearly displayed on each side of the craft above the water.
You can either buy a set of registration stickers for an extra $20.00 or if you don't like the look of these stickers you may sign write your numbers in a font and colour of your choice. As long as they are the minimum height of 90mm and are clearly readable and visible above the water.
Standard stickers supplied are black numbers. If your jet ski is black, then white numbers can be issued. Please indicate on your registration form if your jet ski is black.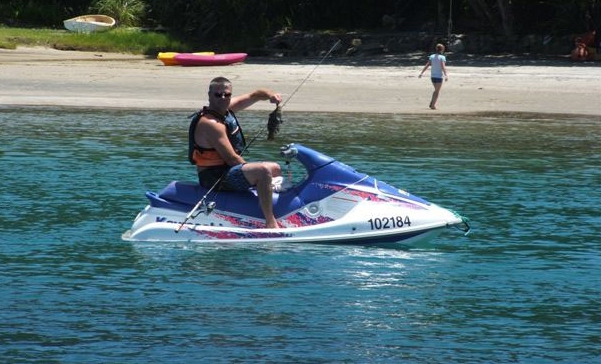 The registration sticker is shown clearly on the front of this jet ski.
Frequently asked questions
What about the privacy of my details?
The information you have supplied will be used to maintain a register of personal water craft that may be operated in the Northland, Auckland and Waikato regions.
Access to this information is limited to authorised persons, including officials from the three regional councils and emergency services. The information cannot be accessed by employees other than for purposes directly related to database management.
What is the period of the registration?
Registration is one-off and is for the lifetime of the machine. Please note that, like a vehicle registration, the registration number must remain with the original machine registered, and cannot be transferred to another machine under any circumstance. Dealers can obtain a dealer plate for the same cost as a new registration.
What if I have more than one jet ski?
Each craft must be registered. If you own multiple craft but only use one at a time at organised events (i.e. by the Jetport Assn.), you may be eligible for a multi-craft (dealers) registration where the owner is issued with certificates for each craft. Each certificate has the same number prefixed by a letter A,B,C etc.
Under this registration only one craft may be used at the same time. If you think there will be any occasions where two or more of your craft will be used at the same time, each craft must be registered individually.
What if I sell my jet ski?
You must register a change of ownership.
All you have to do is complete a Jet ski/Personal Water Craft Registration / Change of Registration Form.
Note: there is no cost to change the registration of a jet ski.
Key Bylaws for jet skis
Lifejacket/Personal Flotation Devices
Life jackets/ Personal Flotation devices must be worn at all times when operating a jet ski.
Speed
Maximum of 5 knots when:
• within 50 metres of another vessel, craft or person (i.e. no wake riding close to vessels)
• within 200 metres of shoreline
• within 200 metres of vessel/craft flying the white and blue dive flag
• someone is sitting with their legs/arms hanging over the edge of the boat (bow riding)
• inshore of yellow buoys marking the 5 knot area.
Obstruction
Do not obstruct access to any wharf, landing place, boat ramp, slipway, mooring, ferry lane or shipping channel.
Flagged Areas
Set aside for swimming and may not be used for other purposes (red and yellow flags).
Age
A person must be 15 years or over to navigate any powered vessel capable of speeds over 10 knots e.g. Personal Watercraft (jet skis).
Water-skiing
Remember it takes three to ski. No skiing between sunset and sunrise (hours of darkness).
Lookouts
A lookout is required when towing any person. The lookout must be 10 years or older.
For further information on bylaws please see our Navigation Safety Bylaw 2017