Whangārei Harbour
About Whangārei Harbour catchment
The Whangārei Harbour Catchment is located on the south-east coast of Northland. The catchment covers approximately 300 square kilometres and drains through a number of rivers and streams to a large estuarine harbour of approximately 100 square kilometres.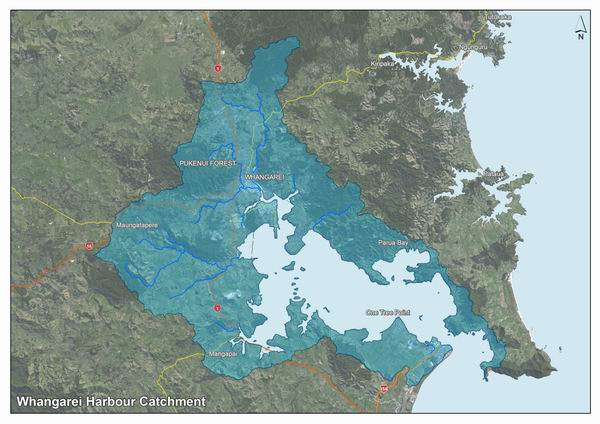 Whangārei Harbour catchment group
Northland Regional Council and Whangarei District Council are working together to improve water quality in Whangārei Harbour, and have developed the Whangārei Harbour Water Quality Improvement Strategy.
Following on from this work, the Whangārei Harbour catchment group was formed in October 2013 to identify further measures to manage Whangārei Harbour catchment's freshwater resources into the future, and advise both councils on this.
The group includes representatives from tangata whenua, drystock, dairy, forestry and commercial fishing industries, community and environmental interests. It also includes representatives from both the Whangarei District and Northland Regional Councils. The Northland Regional Council representative is Councillor Paul Dimery.
Read the Whangārei Harbour catchment group's Terms of Reference
Talk to your local representative
Part of the catchment group members' role is to liaise with their local community or sector groups to support two-way feedback on the Whangārei Harbour catchment's management.
You can get in touch with your local representative via the group's regional council contact person:
Lorna Douglas, Farm Plan Manager
Freephone - 0800 002 004
Email - [email protected]
Catchment plan
The Whangārei Harbour catchment group has developed a catchment plan to tailor the way fresh water is managed in the catchment. The catchment plan includes regulatory (i.e. rules) and non-regulatory water management measures – regulatory measures can be included in the new Regional Plan while non-regulatory measures will be set out in an implementation plan.