Waitangi
About Waitangi catchment
Located centrally within Northland, the Waitangi 302 square kilometre, 37 km long catchment flows eastwards to the Waitangi estuary where it joins the Bay of Islands. The Waitangi catchment drains an area from just south of Kerikeri in the north, to just north of Moerewa in the south and from Okaihau in the west, ending in the east as it flows over Haruru Falls and enters the Waitangi estuary.
Dominant land use within the Waitangi catchment is a mix of dairy and sheep and beef pastoral farming, pine forest, indigenous forest and shrublands.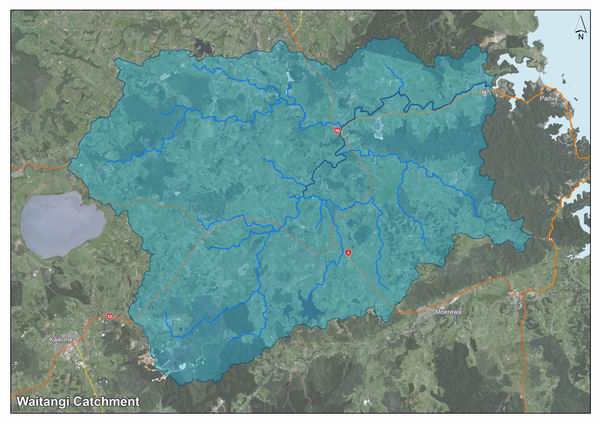 Waitangi catchment group
Waitangi catchment group was formed in June 2014 to help determine how Waitangi catchment's freshwater resources should best be managed into the future.
The group includes representatives from tangata whenua, forestry, tourism, irrigation, dairy and drystock sectors, environmental and community interests. It also includes representatives from Lake Omapere Trust, the Waitangi River Liaison Committee and Far North District Council. The Northland Regional Council representative is Councillor Joce Yeoman.
Find the Waitangi catchment group's Terms of Reference
Talk to your local representative
Part of the catchment group member's role is to liaise with their local community or sector groups to support two-way feedback on Waitangi catchment's management.
You can get in touch with your local representative via the group's regional council contact person:
Duncan Kervell, Land Programme Manager
Freephone - 0800 002 004
Email - [email protected]
Catchment plan
The Waitangi catchment group has developed a catchment plan to tailor the way fresh water is managed in the catchment. The catchment plan includes regulatory (I.e. rules) and non-regulatory water management measures – regulatory measures can be included in the new Regional Plan while non-regulatory measures will be set out in an implementation plan.