Poutō
About Poutō catchment
Located approximately 50 km south of Dargaville on the Poutō Peninsula, at the northern head of the Kaipara Harbour, the Poutō catchment includes around 50 dune lakes over 1 hectare in size. In general, the lakes have high cultural, ecological, environmental, recreational and intrinsic values but water quality and ecological condition vary.
The most significant issues are the risk of invasive plants and animals being introduced to the lakes and in some cases the impacts of farming and forestry.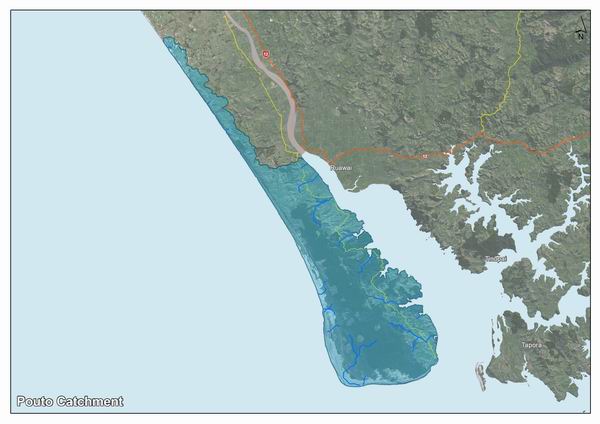 Poutō catchment group
Poutō catchment group was formed in June 2014 to help determine how Poutō catchment's freshwater resources should best be managed into the future.
The group includes representatives from tangata whenua, Fish and Game NZ, Department of Conservation, Forest & Bird and forestry, drystock and dairy sectors. It also includes representatives from Kaipara District Council. The Northland Regional Council representative is Councillor Penny Smart.
Find the Poutō catchment group's draft Terms of Reference
Talk to your local representative
Part of the catchment group members' role is to liaise with their local community or sector groups to support two-way feedback on the management of the Poutō catchment.
You can get in touch with your local representative via the group's regional council contact person:
Pete Graham, Land Management Advisor
Freephone - 0800 002 004
Email - [email protected]
Catchment plan
The Poutō catchment group has developed a catchment plan to tailor the way fresh water is managed in the catchment. The catchment plan includes regulatory (i.e. rules) and non-regulatory water management measures – regulatory measures can be included in the new Regional Plan while non-regulatory measures will be set out in an implementation plan.